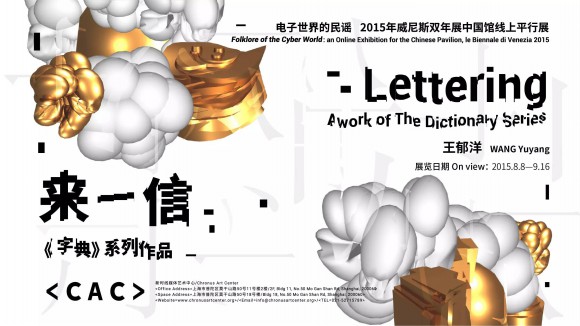 Chronus Art Center (CAC) is pleased to present A work of The Dictionary Series: Lettering, an exhibition by the Chinese artist WANG Yuyang.
A work of The Dictionary Series: Lettering is the fourth work of a series of parallel online projects under the theme of Folklore of the Cyber World organized by Chronus Art Center, the new media art partner institution of the Chinese Pavilion, la Biennale di Venezia 2015. Folklore of the Cyber World extends the Other Future envisioned by the Chinese Pavilion to cyberspace, revealing the vigor and brio of the younger generation of Chinese artists in their critical engagement with the pervasive media society and creative use of new technologies.
WANG Yuyang transforms the strokes of Chinese characters into "0"s and "1"s and molds these digits into myriad three dimensional objects that can be culled by the millions to create words in sculptural forms at a mouse click.
The work's interactive online version will premiere on August 8th 2015 to coincide with WANG Yuyang's large scale solo exhibition at the LONG Museum in Shanghai.
A work of The Dictionary Series: Lettering
2015 | Wang Yuyang | Interactive Online Version
On View: 2015.8.8-9.16
The process of the work starts by converting the stokes of Chinese characters into "0" and "1" sequences. A computer program then transforms the binary codes into distinct three-dimensional models. The strokes are therefore hypostatized with unique sculptural forms ready for a new type of "character creation" whose semantic significations are substituted by iconographic rendition either as individual characters or combined as words in "writing".
About the artist
WANG Yuyang was born in 1979. He studied at the China Central Academy of Drama and the Central Academy of Fine Arts. He has taught at the School of Experiment Art at the Central Academy of Fine Arts since 2008 and lives and works in Beijing. WANG Yuyang creates works using emergent media but does not deliberately emphasize the novelty of technology. He is more interested in the artistry brought about by "outdated" technology, "destructive" aesthetics and material waste. His work has employed all possible media. He uses humor, fiction and spectacles to explore and reflect upon the relationship between the human body, experience and cognition. At the same time he also investigates the relationship between artificial reality, media technology and historical perception. His work has been shown in major exhibitions and art festivals in China, Europe and the United States.
"Folklore of the Cyber World" Series Artists & Exhibition Durations:
SHEN Xin: Rhythms of Work - Means Something to You
2015.5.8-6.7
GUO XI & ZHANG Jianling: The Grand Voyage
2015.6.8-7.7
MIAO Ying: Holding A Kitchen Knife to Cut the Internet Cable
2015.7.8-8.7
WANG Yuyang: Lettering - A work of The Dictionary Series
2015.8.8-9.16
YE Funa: Nail to Go
2015.9.17-10.16
LIN Ke: Lens from E-world
2015.10.17-11.22