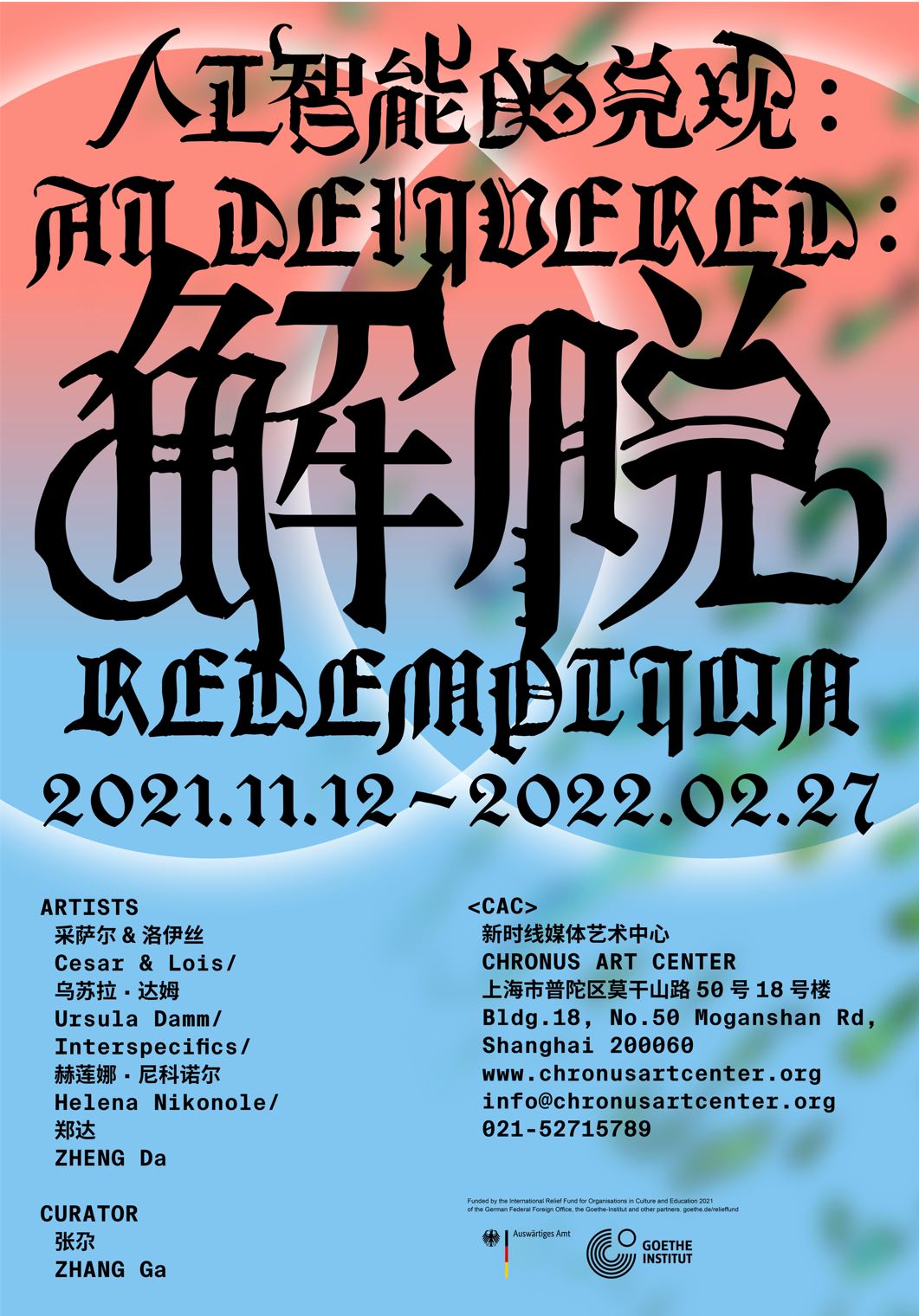 AI Delivered: Redemption
2021.11.12 - 2022.02.27
Chronus Art Center (CAC)
BLDG.18, No.50 Moganshan RD., Shanghai

ArtistsCesar & Lois, Ursula Damm, Interspecifics, Helena Nikonole, ZHENG Da
Curated byZHANG Ga
Exhibition Opening
2021.11.12
14:00 - 19:00
A music performance by a man and an AI fridge
an opening performance powered by CAC Lab
an opening performance powered by CAC Lab

ON VIEW
11 am – 6 pm Wednesdays – Sundays
Admission: ¥ 30 (Free admission on Wednesdays)
*Free admission on the day of opening.
Chronus Art Center is pleased to announce the new exhibition AI Delivered: Redemption, the second component of a two-part exhibition under the auspices of AI Delivered. Featuring artists and artist collectives Cesar & Lois, Ursula Damm, Interspecifics, Helena Nikonole, and ZHENG Da. The exhibition will be on view from Nov 12, 2021, through Feb 27, 2022.
When answering the question "Can machines think?" the British mathematician and AI progenitor Alan Turing in his 1950 essay Computing Machinery and Intelligence proposed his infamous Imitation Game (aka The Turing Test) as a counterargument to his own self-imposed question, writing "The original question, 'Can machines think?' I believe to be too meaningless to deserve discussion." Turing argued instead "that in about fifty years' time it will be possible, to program computers, with a storage capacity of about 109, to make them play the imitation game so well that an average interrogator will not have more than 70 percent chance of making the right identification after five minutes of questioning."[1] American philosopher Daniel Dennett later speculated in his text Can Machines Think, "Turing was not coming to the view (although it is easy to think how one might think he is) that to think is just like to think like a human being … Men and women, and computers, may all have different ways of thinking. But surely, he thought, if one can think in one's own peculiar style well enough to imitate a thinking man or woman, one can think well, indeed."[2]
As a sequel to the first part of the exhibition AI Delivered: The Abject, this new iteration accentuates on the redemption of AI with the alternative narrative of the Turing Test and its implication in perspective. It imagines an AI freed from an assumed intelligence based on a human measure as well as seeing machine intelligence as an agentic entity of another order, capable of a subjectivity other than that of humans. The exhibition illuminates how such an AI is envisioned by artists to explore a cosmopolitically conscious ecology and the posthuman prospects of symbiosis and of collective commons.
Five works of different latitudes by the artist collective Interspecifics open the exhibition with an immersive vibrance that entangles human with nonhuman, algorithm with bacteria, and the cosmic with the homegrown.
Codex Virtualis_Genesis, the first incarnation of the tetralogy Codex Virtualis marks the latest foray of the artist collective Interspecifics into yet another uncanny zone of speculation, which they had started in the multi-year investigation in the making of Speculative Communications, also presented here in its full arrangements. Poetic as well as painstakingly technical, this embryonic coming-forward is where biology meets neural networks and a hybrid form of life thus born through an aesthetic inquiry beyond the feeble mind. The ambitious project promises to deliver one of these organisms with resilience and vitality and "see it living virtually" in the final episode of Codex Virtualis_Life. Codex Virtualis is the outcome of the SETI x AI art residency, a partnership between the SETI Institute's Artist-in-Residence (AIR) Program and ARS Electronica.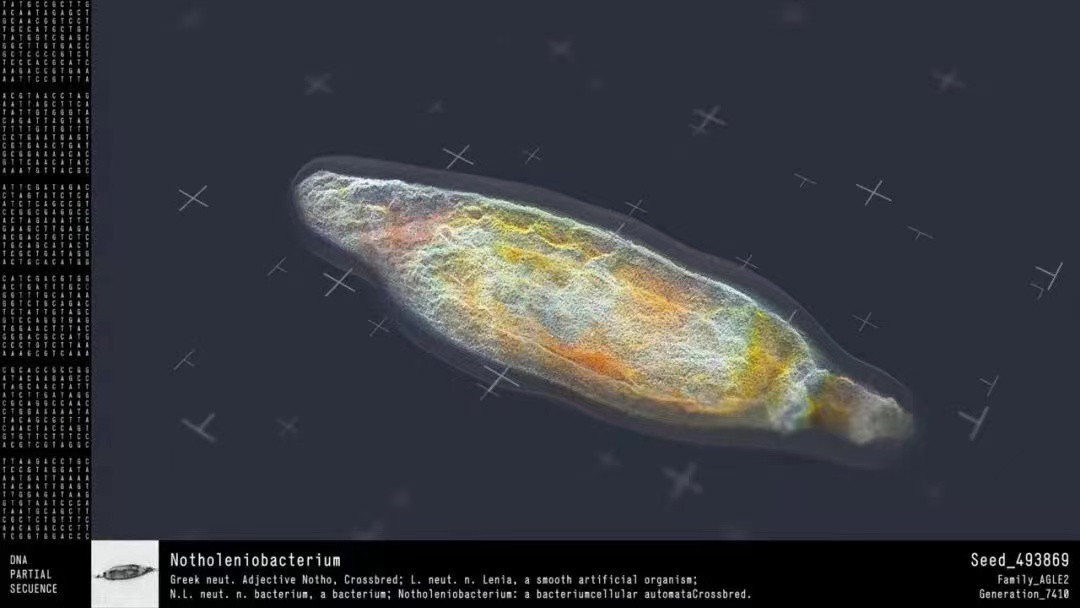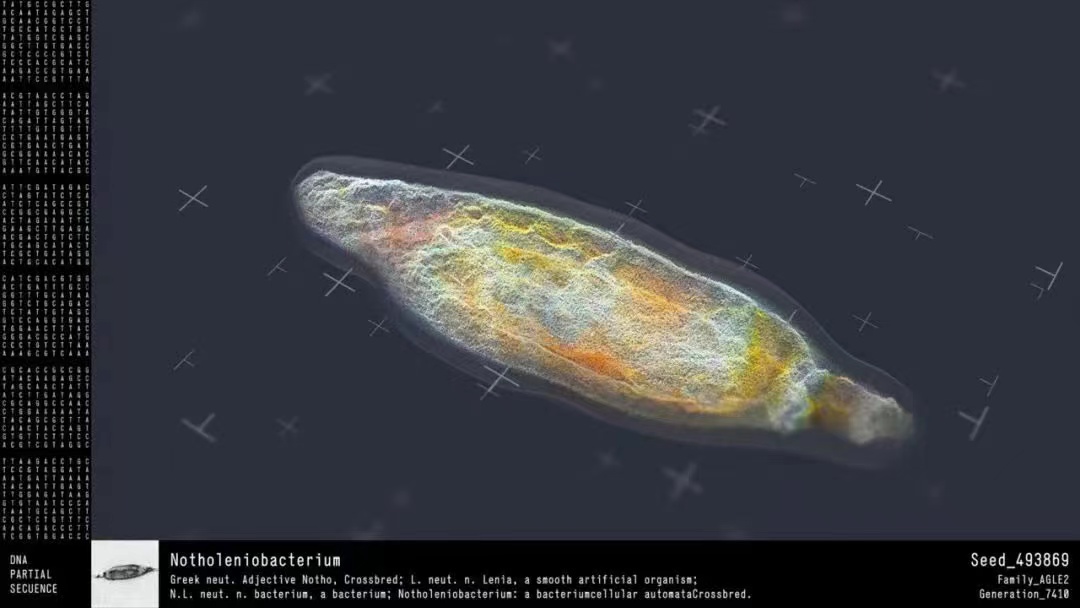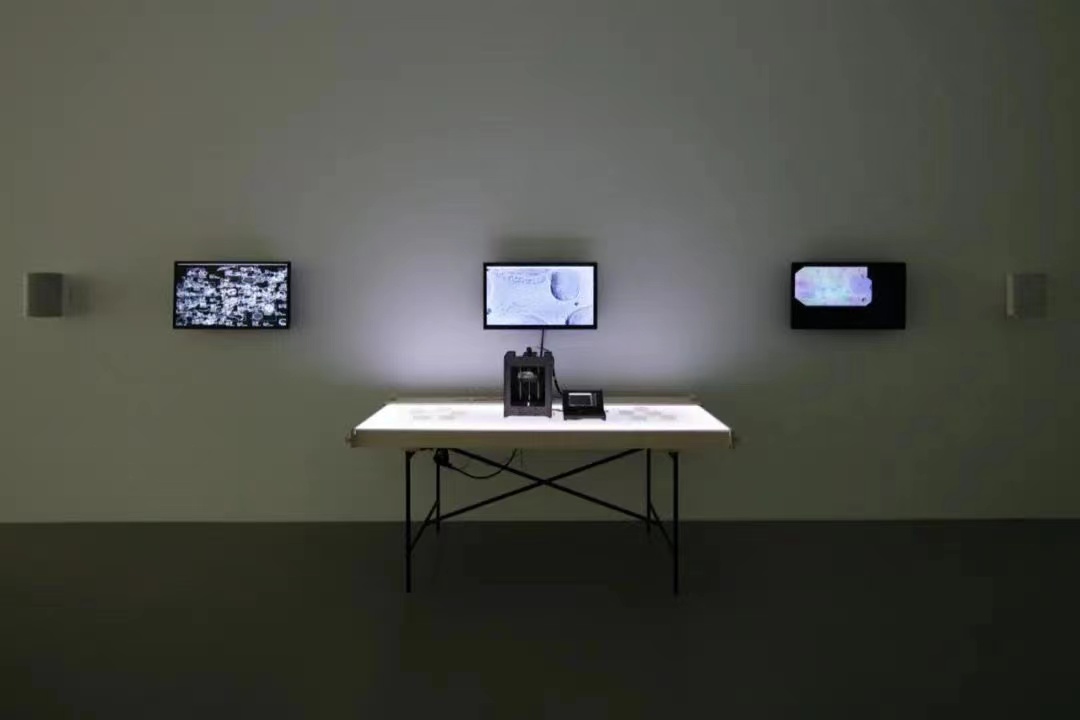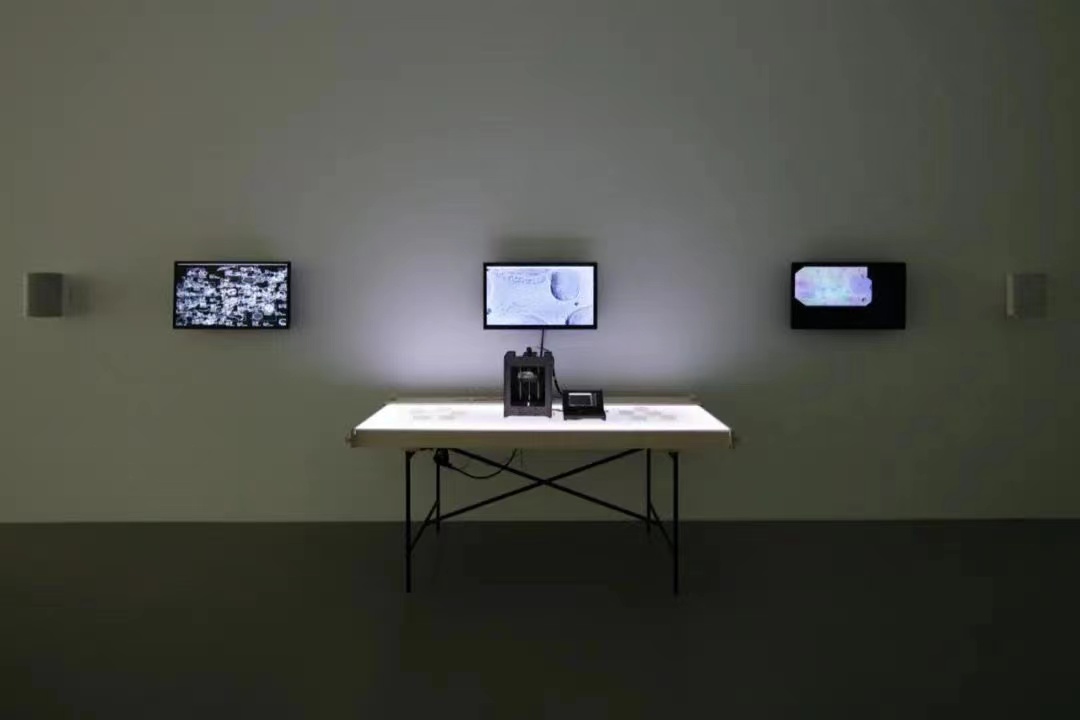 Three sound installations traverse the first gallery as a stereoscopic cacophony of otherworldliness yet in harmony by its own accord. In Terrestrial Ensemble, four sets of mallets striking four Teponaztles reverberate with information from the National Seismological System. Geological residues and seismic rhythmics inform Interspecific's vision in the bricolage of technology of the past and dataset of the present. Aire v.3 and Recurrent Morphing Radio are evocative of sociopolitical dimensions, in which noise eventually takes over.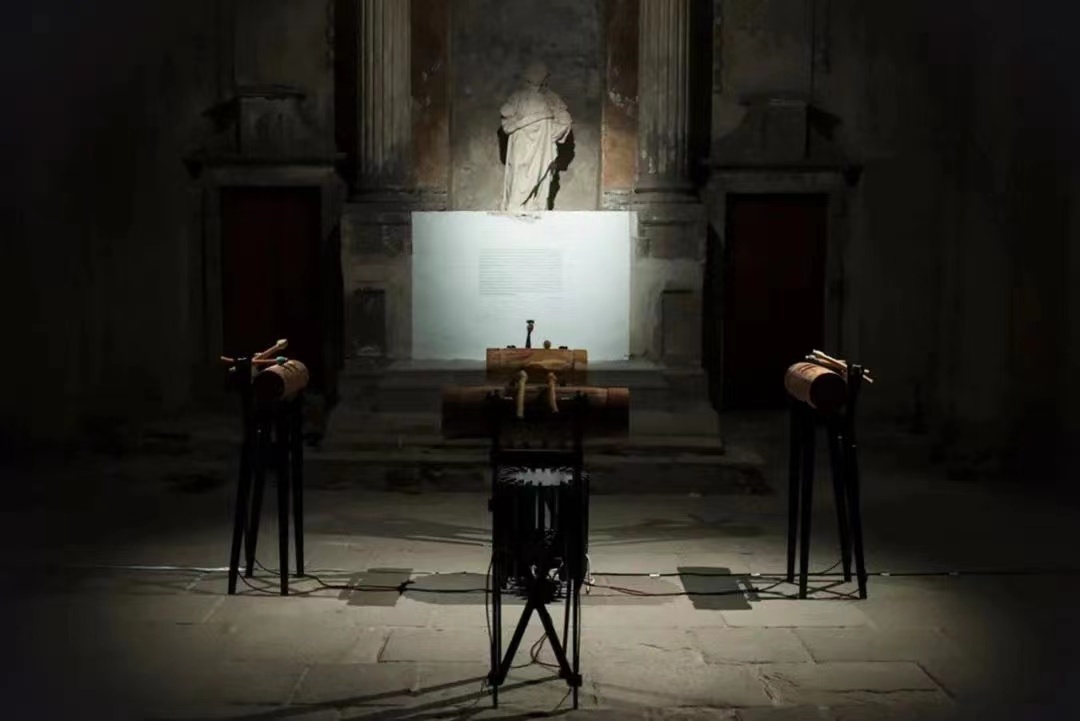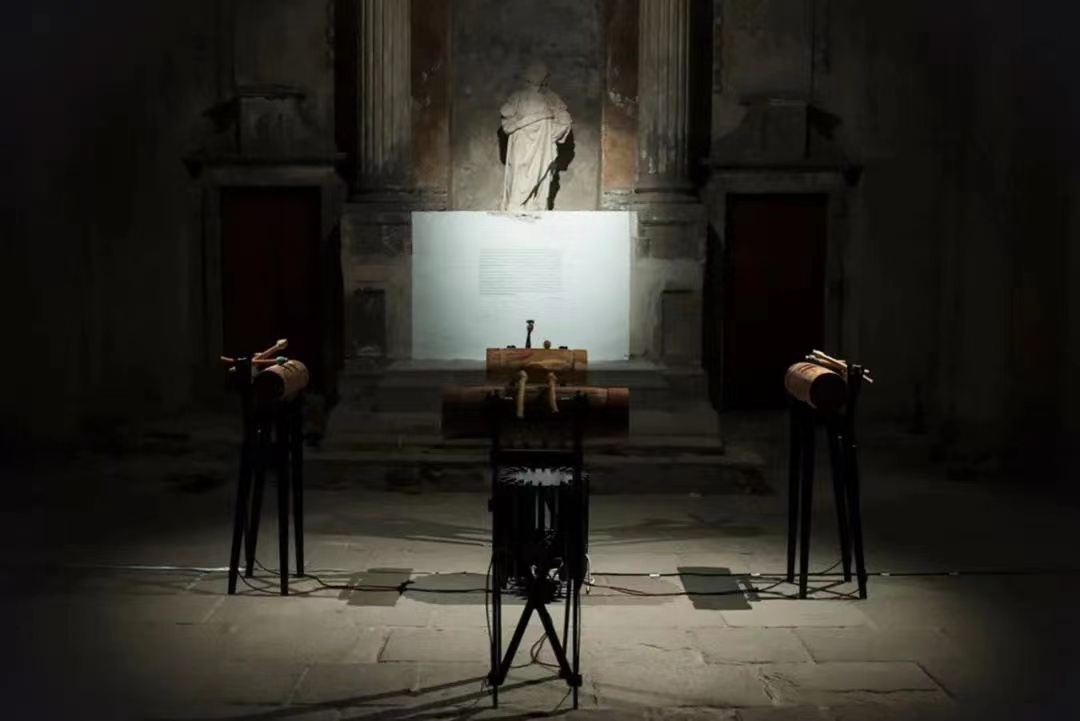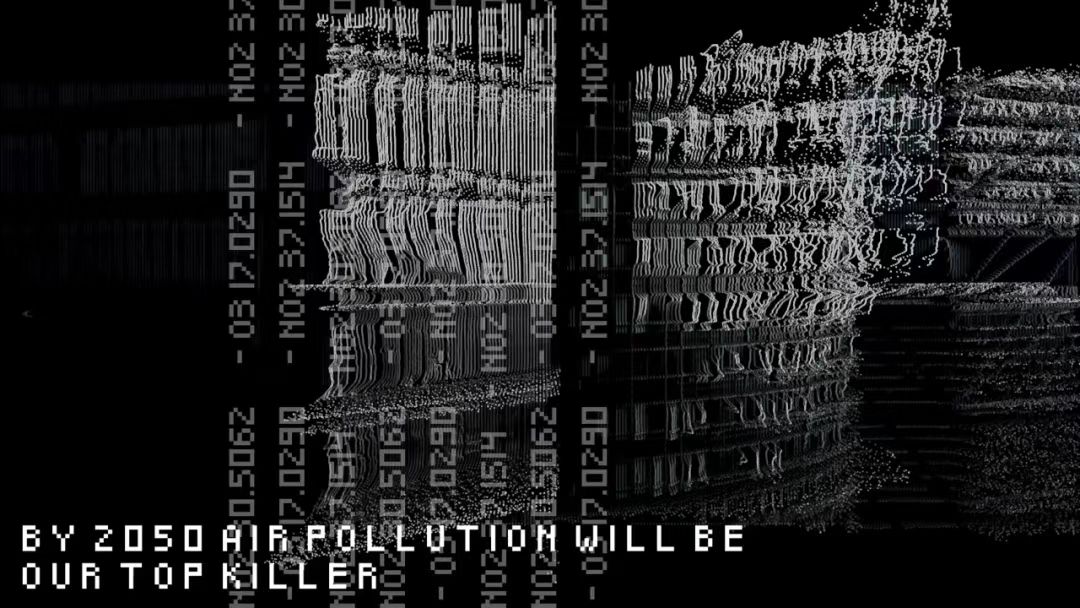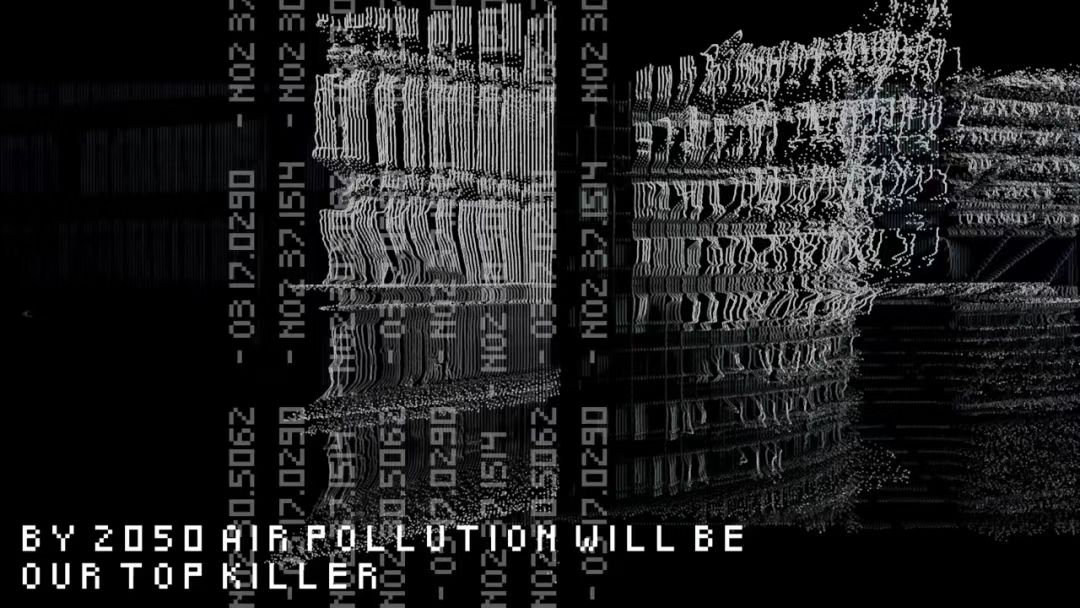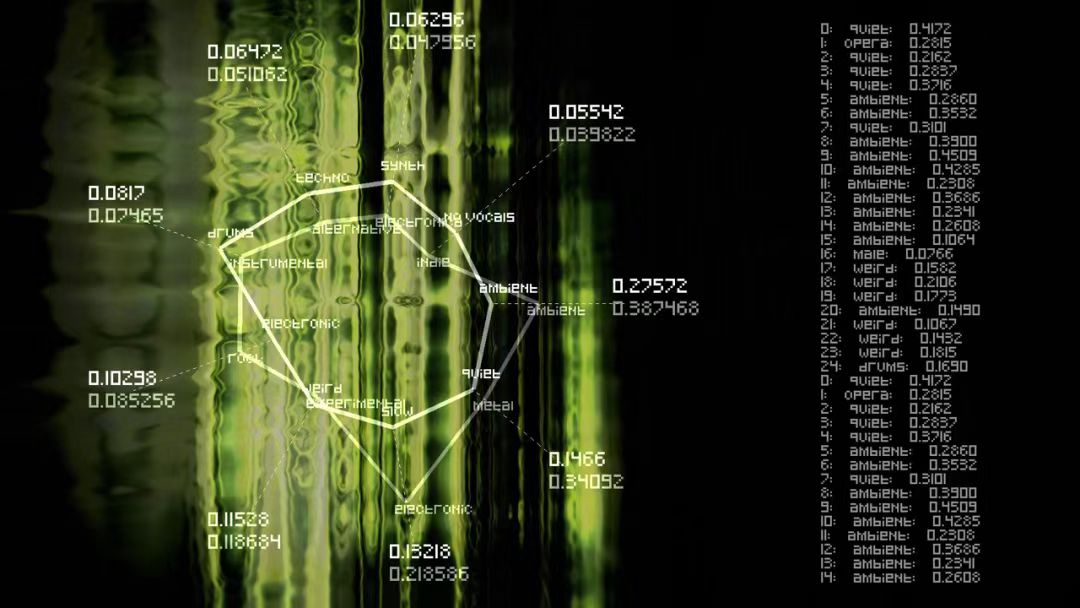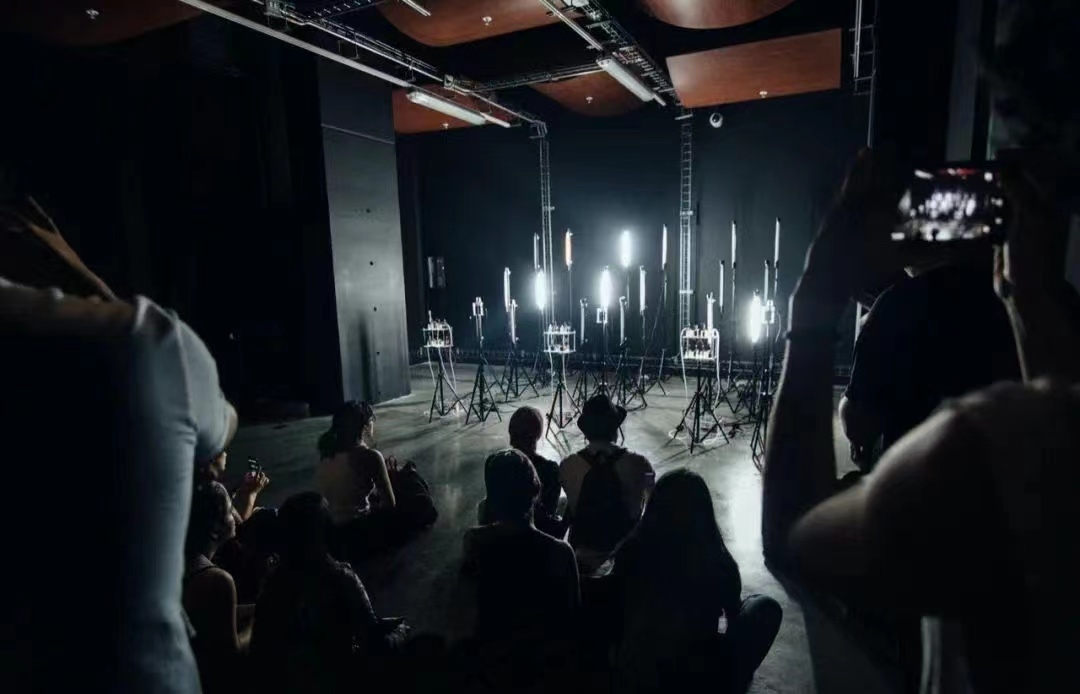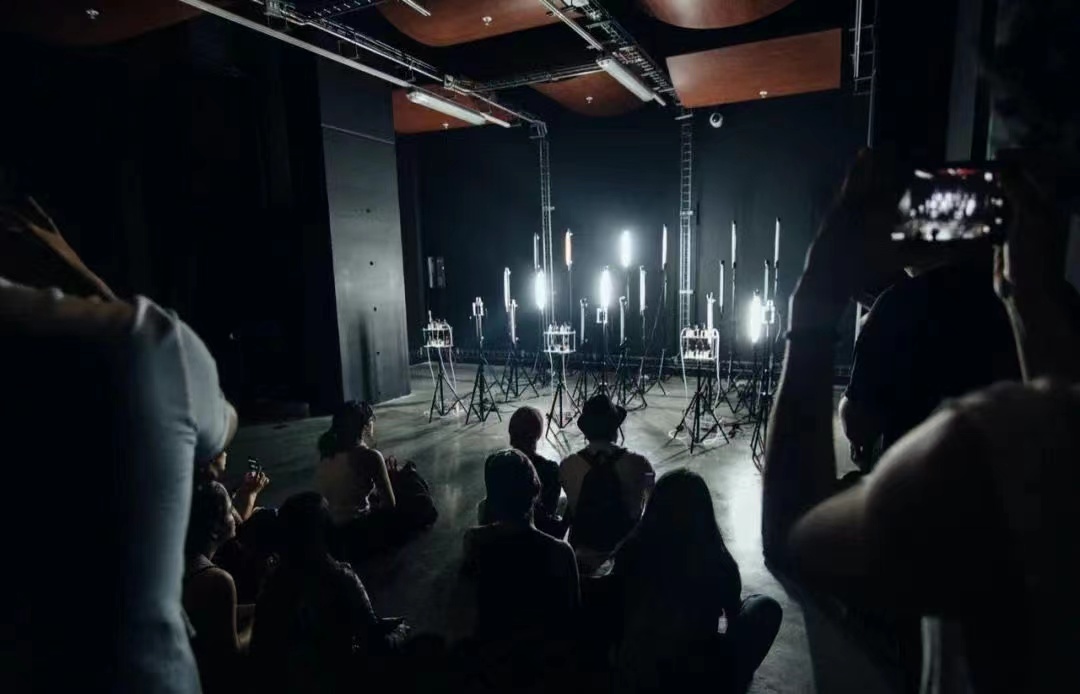 Artist duo Cesar & Lois sets forth to explore an artificial intelligence system that learns from nature's different timescales. It is AI that will operate independently of anthropomorphic awkwardness. The kinetic installation Allochronic Cycles also "uses time forecasting to predict future atmospheric carbon levels."
In Bird Language, a neural network was fired to train the sounds of nightingales so that communication between non-human agents may be established. This cognitive extension beyond the chasm of species makes the promise for interspecies understanding, encouraging cooperation where multiple subjects co-exist and co-evolve.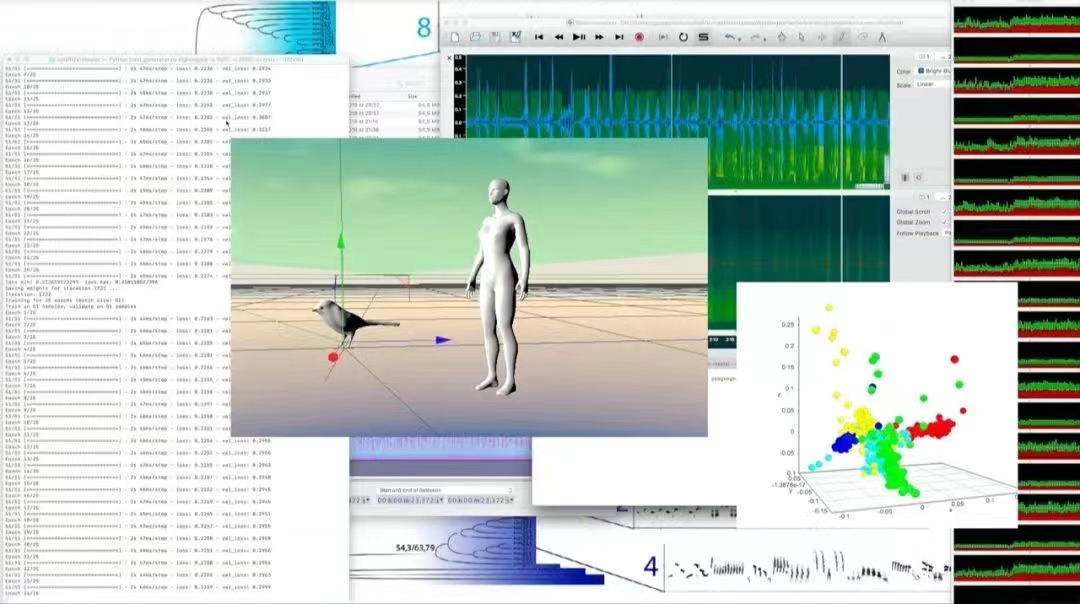 In Ursula Damm's installation Membrane, rather than forcing AI to emulate a "reality," a dynamic of power equilibrium results in a highly abstracted visual game of you-in-me and I-in-you, human and AI thus are interlocked and co-effectively intriguing.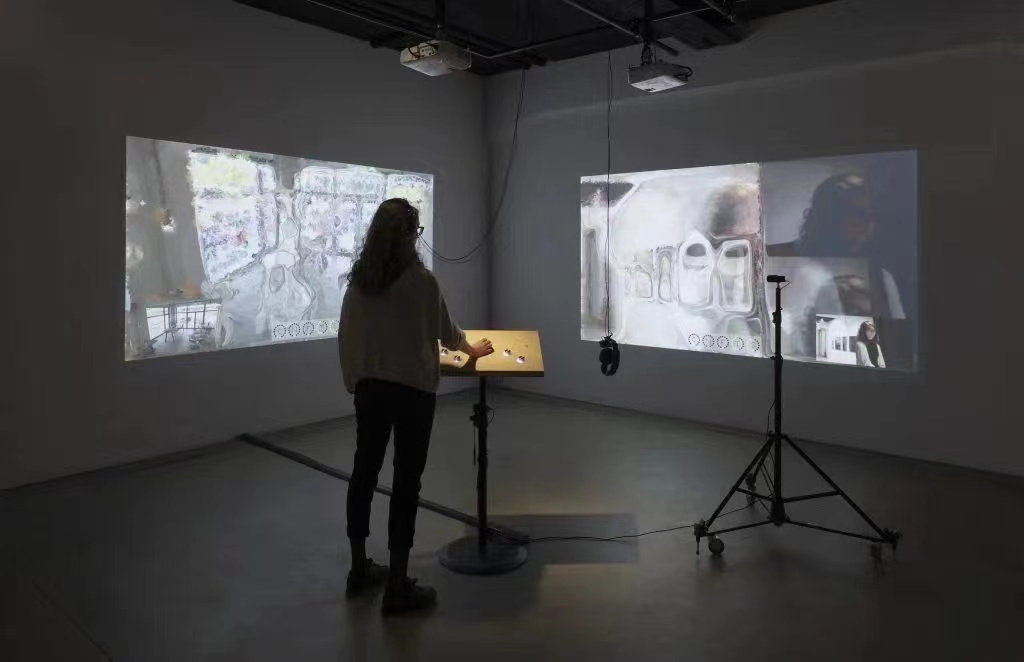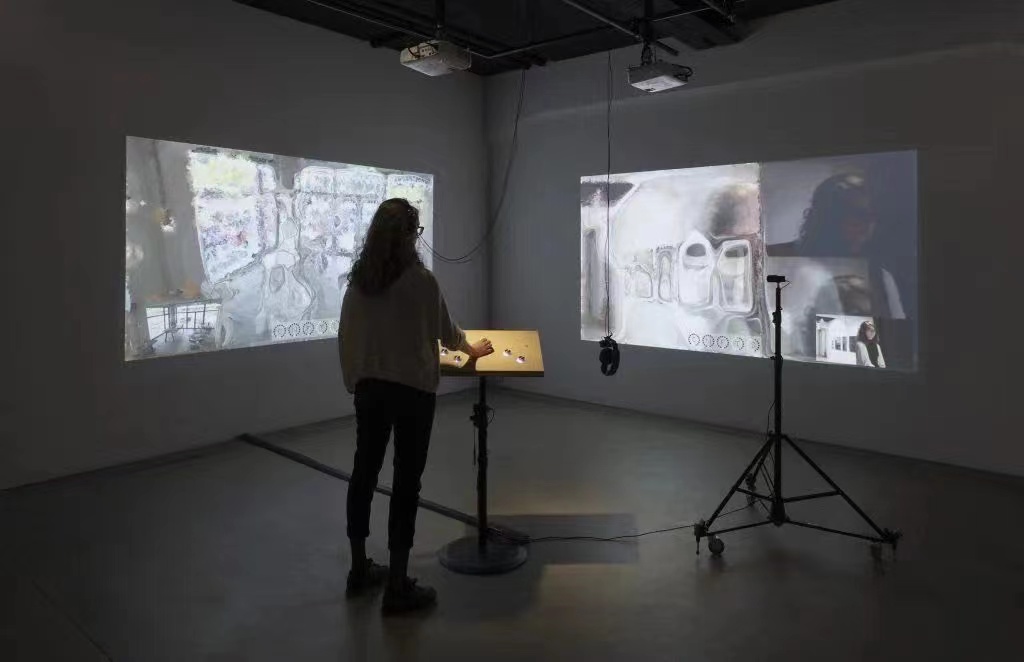 ZHENG Da ventures to delegate his body to the fancy of the machine. The artist would strap himself routinely with various sensors to transmit bodily information and environment data surrounding him to Supervised Machine Learning process. The LOW·AI BOX is as much the artist's body as an endless source of artistic imagination endorsed by AI.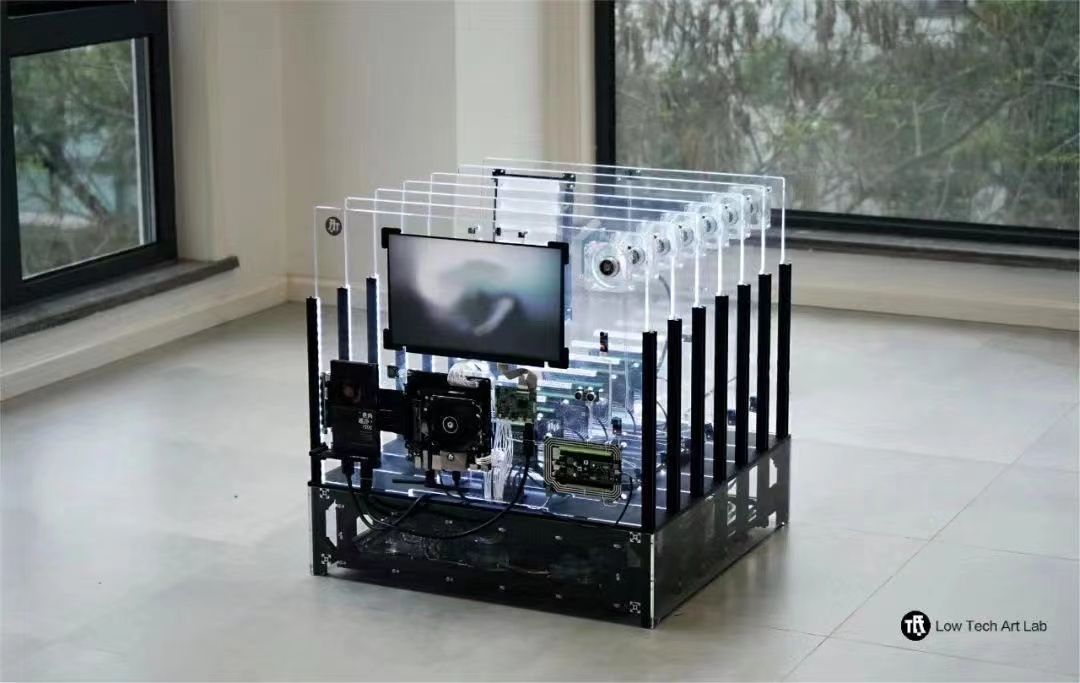 The exhibition will be accompanied by a publication with an extended essay, invoking historical and current literatures on the critical reflections of AI, to expound on the curatorial conception and the included artworks.
1.https://academic.oup.com/mind/article/LIX/236/433/986238, 5/3/2021
2.http://www.nyu.edu/gsas/dept/philo/courses/mindsandmachines/Papers/dennettcanmach.pdf
//////
Funded by the International Relief Fund for Organisations in Culture and Education 2021 
of the German Federal Foreign Office, the Goethe-Institut and other partners. goethe.de/relieffund