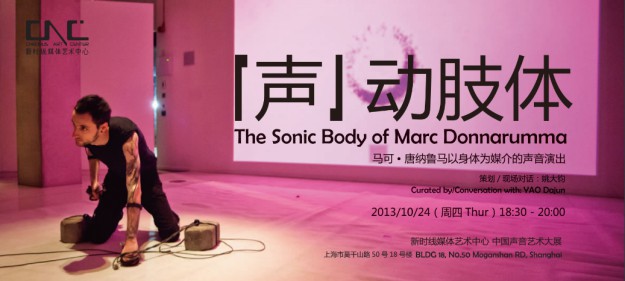 Guest: Marc Donnarumma, YAO Dajun
Date: 2013-10-24  18:30 ~ 2013-10-24  20:00
Address: ldg.18, No.50 Moganshan RD., Shanghai
Artist: Marco Donnarumma
Curated by/Conversation with: YAO Dajun
Organized by Chronus Art Center, Sound Art China
Free for admission. Please make reservation via info@chornusartcenter.org .
Marco Donnarumma is an outstanding Italian new media artist and performer. His live performances are mainly based on the action of muscle contraction in the physical world (original data source), and consequent production of electronic signals and sounds in the virtual world. He show sensory changes of his body; and it resonates with the audience when the muscle vibrations are converted to real sound and spreading out from his body to the ears, skins and muscle of the audience. The dimension of performer's feeling is enlarged and influencing others' bodies, in which case the intensity of muscle vibration becomes a vector.
About the Artist
Marco Donnarumma is a new media artist and performer of international renown, born in Italy but now based in London. 28-year old Marco represents the potential and vitality of the new generation of artists. He is a PhD student at Goldsmiths, University of London. Marco also teaches regularly worldwide for academic institutions and media labs.
Marco has a wide range of creation, including sound, physical performance, Butoh and media theatre. In the past 3 years, Marco has performed and spoken in 50 countries including US and South America, Europe, India, China, South Korea and Australia. His works have been selected at leading art events (ISEA, Venice Biennale, WRO Biennale), specialized festivals and venues (FILE, Panorama, EMPAC, New York Electronic Arts Festival, Sonorities, Némo, Mapping, Piksel, Re-New, Laboral) and major academic conferences. He curated a comprehensive journal publication on biotech and performing arts entitled Biotechnological Performance Practice (eContact! 14.2).
Basically, his work explores the dimension of the human body in relation to outer space, real or virtual, investigating its sonic dimension, the sonic and expressive potential, either natural and in connection with technology. In 2012, he was awarded first prize in the Guthman Musical Instrument Competition for Xth Sense.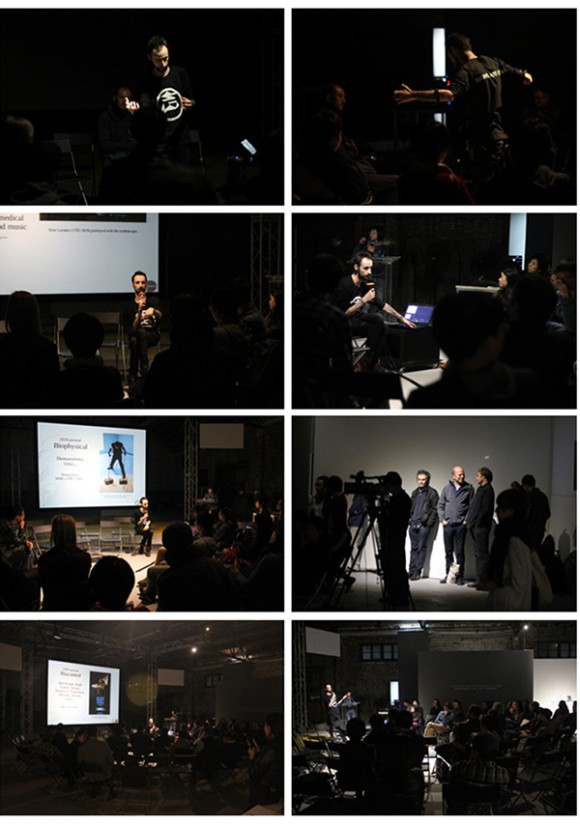 Video: