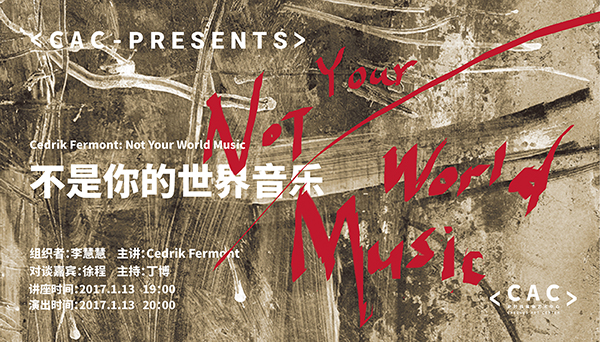 Talk and Gig:Not Your World Music
Talk:2017.1.13(Friday), 7pm
Speaker: Cedrik Fermont
Guest:XU Cheng
Host and Interpreter: Bruce Bo Ding
Gig: 2017.1.13(Friday), 8pm
Performers:Fish Drinking Soup, C-drik (Cedrik Fermont) + Arrebato, MAI MAI + GAO Jiafeng, C-drik (Cedrik Fermont)
Organizer:Ll Huihui
Venue: Chronus Art Center
Address: BLDG.18, No. 50 Moganshan Road, Shanghai
*This event is free for public. To reserve a seat, please send your name + contact info to info@chronusartcenter.org
About the Event
Over the past ten years, artist Cedrik Fermont was  focusing on Asian and African sound scene and he set up a database about Asian and African experimental musicians. Last year he finished his book "Not Your World Music - Noise in South East Asia"which he collaborated with Dimitri della Faille, and in this book, they recorded the situation of noise and experimental music in South East Asia.
This time in CAC, the event consists of two parts:talk and gig. Firstly Cedrik will introduce his past researches, then describe the content of the book and play some music extracts for the audience. And he will describe the situation in various South East countries, concentrate a bit more on Indonesia as it is the most active place these years.
The guest Xu Cheng will make a conversation with Cedrik based on the content of "Not Your World Music-Noise in South Asia" , for instance they will discuss the relationship between academic and non-academic, the relationship between politics and sound, ect.
The second part of the event is an experimental gig.
Line up: Fish Drinking Soup, C-drik (Cedrik Fermont) + Arrebato, MAI MAI + GAO Jiafeng, C-drik (Cedrik Fermont)
About the Participator
Cedrik Fermont
Composer and musician who operates in the field of noise, electronic and experimental music since 1989, born in Zaire (DR Congo). Lives in Berlin (Germany). Lived in Belgium and the Netherlands. Explores electronic, experimental and noise music from Asia and Africa, label manager at Syrphe, concert organiser, writer, radio host at Radio Staalplaat and Colaboradio (starting in November 2016), etc.
C-drik is his arrebato.
http://syrphe.com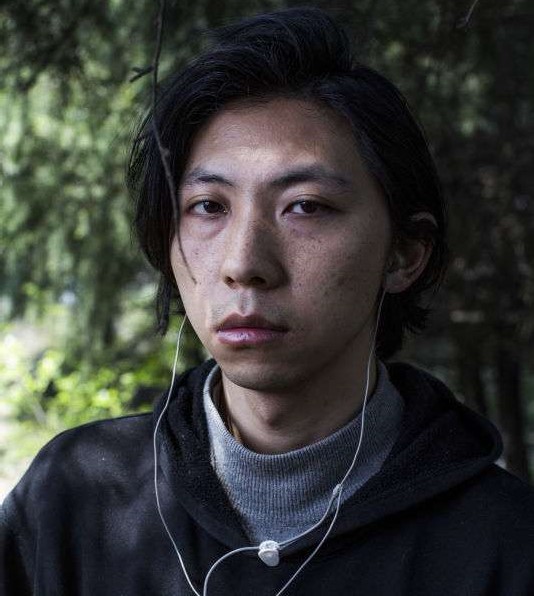 XU Cheng
Practitioner of sound.
Fish Drinking Soup is his arrebato.
Bruce Bo Ding
Bruce Bo Ding received his MSc from the University of Edinburgh and is now an artist, convener and translator. Involved with various artistic and social practices, he often switched among different roles to work in different contexts and territories in order to disrupt unnecessary barriers. For the past few years, Ding has been researching and practising "Art as Connection", and he is now working on a project about technology, senses and body.
LI Huihui
Graduated from Shanghai fine arts Academy. She uses print making, experimental animation, installation and performance to create art works.
Arrebato is the solo project of mixed-media artist LI Huihui.
http://Huihui.liHarshmallowrecords.bandcamp.com
MAI MAI
Film director, experimental musician. 1982 Born in Xuzhou, Jiangsu Province, 2006 Graduated from Shanghai Theater Academy, Works and lives in Shanghai.
Nine years ago, MAI MAI formed a noise rock band "Muscle snog",be vocal,guitarist and song-writer. Since 2008 he started running an experimental musicplat-form: "R.E.S.O.", in same year, he commenced his personal experimental music project using this pseudonym"MAI MAI". During these last five years, "R.E.S.O." has presented more than 20 concerts, and became the most important stage for Chinese and oversea musicians.
As a film maker, MAI MAI had made many short film and video works. In 2013, his short film "Four Cowardswas" selected by the 43thTampere International Short Film Festival (International Competition Section).
In 2015, MAI MAI and Jun-Y Ciaoco-curating, collaborating with "Where is the Zeitgeist?" Editing Office and AM Art Space : a project focuses on sound art and supports artists exploring music practice ——  "Windowless Scenery".
GAO Jiafeng
Shanghai based musician/performer Gao Jiafeng's style evolves over time, recently it's a mixture of songs, noise and stand-up comedy.  He was recipient of 2016 composer-in-residency of Elektronmusikstudion Stockholm, 2014 Margaret Guthman Musical Instrument Design Competition, and 2014 Annual Musicians of Douban.
Fish Drinking Soup
Does ego exist alone? What do I mean? We are trying to swallow our world? Or have we been swallowed up by the outside?