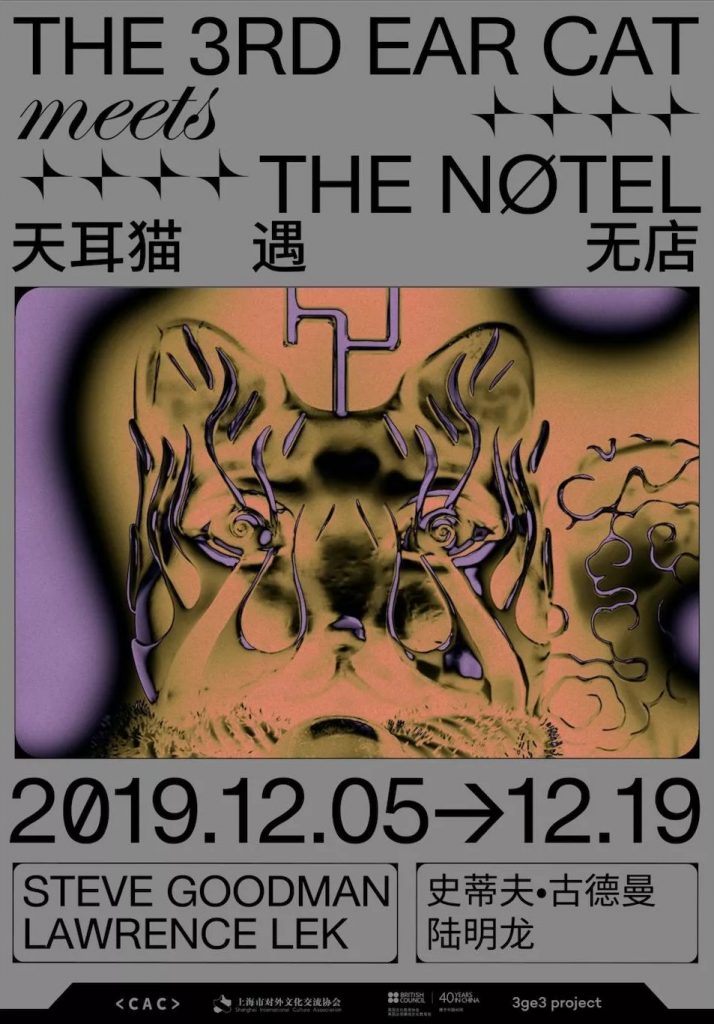 Artists:

Steve Goodman & Lawrence Lek
Opening Talk:
2019.12.05 (Thur)17:00 – 17:45
Exhibition:
2019.12.05 – 12.19
Venue:
Open Hub @Chronus Art Center (Building 18, No.50 Moganshan Road, Shanghai)
Supported by
Shanghai International Culture Association (SICA)
British Council
3ge3 project
On the occasion of UK based record label Hyperdub's 15th birthday, Kode9 & Lawrence Lek resume their collaboration which began in 2015 around Kode9's last album 'Nothing', for which Lek produced and performed the Nøtel, a design for a fully-automated luxury hotel of the future. The Nøtel then became a site-specific multimedia installation which simulated a real estate marketing suite in London, The Hague and Basel. For this special occasion, the 3rd Ear Cat—the artificial entity which runs Hyperdub—converges with the Nøtel in an interactive installation at Chronus Art Center in December 2019. Surrounding a shrine to a vibrating 3rd Ear Cat, the 8-screen installation explores the evolution and mutation of this entity and also features interactive footage from within the Nøtel.
About the Nøtel 
Nøtel Corporation is proud to present our new marketing suite for the Nøtel, our flagship range of zero-star™ hotels that embody the concept of fully-automated luxury. Designed by world-leading architects to accommodate today's global nomads, you can rest assured that your anonymity and security is of the utmost importance. Why not indulge in the personalized, intelligent sound system at the piano bar, or bathe in the glow of our eco-friendly, thermo-nuclear spa.
The Nøtel replaces human workers with artificial intelligence to deliver everything its guests could possibly wish for. Drone security, facial recognition and extensive sensory systems will not only ensure the utmost privacy, but will predict guests' wants and needs based on previous behaviours. Whereas the common understanding of automation forecasts the loss of human jobs to robots, in Nøtel, the use of total surveillance will enable its AI to assimilate every need into the hospitality machine. Set in a future where society's elite no longer needs permanent housing, but rather stays in temporary accommodation, Nøtel proposes a globalized, standardized way of living. Nøtel guests can be sure that another Nøtel is ready for them in every major city worldwide.
 About the 3rd Ear Cat 

In its current instantiation, the 3rd Ear Cat is feeding on (machine learning) the Hyperdub catalog and spitting it out in strange sonic mutations. Its original blueprints dating back to the 1960s, when Vietnamese bioacoustics expert, and member of AUDINT, Nguyen Van Phong developed experimental techniques for opening the 3rd ear, allowing subjects to both listen to the voices of the dead, and the voices of the not yet living, thereby providing a portal to both the past and future.
Gene splicing a Japanese Maneki Neko with the failed 1960s, CIA project Acoustic Kitty, the 3rd Ear Cat runs on an artificial intelligence operating system, otherwise referred to as the Hyperdub Virus. This provides automated decoding of signals coming in through the 3rd Ear antenna, converting infrasonic and ultrasonic signals otherwise inaudible to the human ear. The raised left paw of the 3rd Ear Cat contains magnets that attract artificial acoustic lifeforms in the ether. Its whole body functions simultaneously as a brain, an eardrum and as a loudspeaker. Kode9 is its meat puppet. The 3rd Ear Cat controls Kode9's behaviour by feeding him concentrated packs of earworms, and then closely monitoring his nervous responses to infection as his consciousness is overridden, his strings pulled. The 3rd Ear Cat is rumoured to use all globally distributed lucky cats as embedded agents.
The 3rd Ear Cat would like to thank: Kim Laughton, Manuel Sepulveda, Ingrid Tsy, Tony Yannick and Joseph Colonel
Lawrence Lek would like to thank; Sadie Coles HQ; arebyte Gallery, UK; Stroom den Haag, NL; Art Basel, CH.
About the Artists 
Steve Goodman is an artist, writer and musician based in London. He is the founder of the record label Hyperdub, DJs and produces electronic music under the name Kode9, published the book Sonic Warfare: sound, affect and the ecology of fear (MIT Press 2009), co-edited the book Unsound: Undead (Urbanomic 2019) and is a member of vibration research group, AUDINT. In 2018-9, he produced the sound design for Cuban artist Tania Brugeria's Hyundai commission in the Turbine Hall of the Tate Modern and developed a sound installation "I.T." in the More than Human exhibition on artificial intelligence at the Barbican in London. With the group AUDINT, he recently produced a surround sound a/v installation at Arebyte gallery in London as part of the Unsound: Undead exhibition. In 2014 he received both the Innovator and Best Small Label Award from the Association of Independent Musicians (AIM).
Lawrence Lek lives and works in London. He creates site-specific virtual worlds using gaming software, 3D animation, installation and performance. By rendering real places within fictional scenarios, his digital environments reflect the impact of the virtual on our perception of reality. Recent projects include: AIDOL, Sadie Coles HQ, London; Unlimited, Art Basel, Switzerland (2019); 2065, K11 Art Space, Hong Kong; Nøtel, Stroom den Haag, The Hague (2018); The New Normal, UCCA, Beijing (2017); Glasgow International, Tramway, Glasgow (2016); Sinofuturism (1839-2046 AD), Wysing Arts Centre, Cambridge, Secret Surface, KW Institut, Berlin (2016). Lek received the 2017 Jerwood/FVU Award and the 2015 Dazed Emerging Artist Award, and is represented by Sadie Coles HQ.  

Shanghai International Culture Association (SICA) was founded in 1986 as a municipal-level people's organization that conducts non-governmental international cultural exchanges. Its function is to strengthen mutual understanding and friendly cooperation between Shanghai and the rest of the world. It serves to enhance Shanghai's economic growth, scientific progress, and cultural output through people to people engagement in international cultural exchange.SICA has a council composed of nearly a hundred local and international public figures. It also has operating departments in charge of exchanges in various fields and an integrated management unit.SICA features a wide range of cultural exchange and communications in multifarious fields including culture and arts, the humanities, social sciences, economics, finance, science and education. It organizes a variety of substantial events, such as art exhibitions, cultural performances, international conferences, academic seminars, and cultural exchanges abroad. Having set up exchanges and cooperation with organizations and individuals in dozens of countries and regions, including the United States, Canada, Japan, Australia, France, Germany, Spain, Russia, Austria, and Chinese Special Administrative Regions of Hong Kong and Macau, SICA is an influential international cultural exchange organization in Shanghai.
SICA has been at the forefront of China's reform and opening-up. Continuing the tradition of international cultural exchange, it combines Chinese and Shanghainese culture. Embodying the spirit of Shanghai, pooling wisdom and excellence with liberality and generosity, it further expands the breadth and depth of the cultural exchange between Shanghai and the rest of the world. SICA thereby has greatly contributed to making Shanghai a truly international metropolis. 

The British Council is the UK's international organisation for cultural relations and educational opportunities. We work with over 100 countries in the fields of arts and culture, English language, education and civil society. Last year we reached over 80 million people directly and 791 million people overall including online, broadcasts and publications. We make a positive contribution to the countries we work with – changing lives by creating opportunities, building connections and engendering trust. Founded in 1934 we are a UK charity governed by Royal Charter and a UK public body. We receive 15 per cent core funding grant from the UK government.
We operate as the Cultural and Education Section of the British Embassy in Beijing and Cultural and Education Section of the British Consulate-General in Shanghai, Guangzhou, and Chongqing. Our Exams work across China operate as Wholly Foreign Owned Enterprises.
The British Council has been working with China since 1979. In 2019 we are marking this 40th anniversary with a series of events celebrating cultural relations and exchange between the UK and China.
www.britishcouncil.cn

3ge3 project collaborates with artists to redefine artwork which enters into daily life. In Taoism, there's a saying goes "After one come two, after two come three, after three come all things." 3ge3 project then leads to infinity, embracing endless possibilities. It origins from ZUCZUG's Meishier (没事儿) line since 2011.