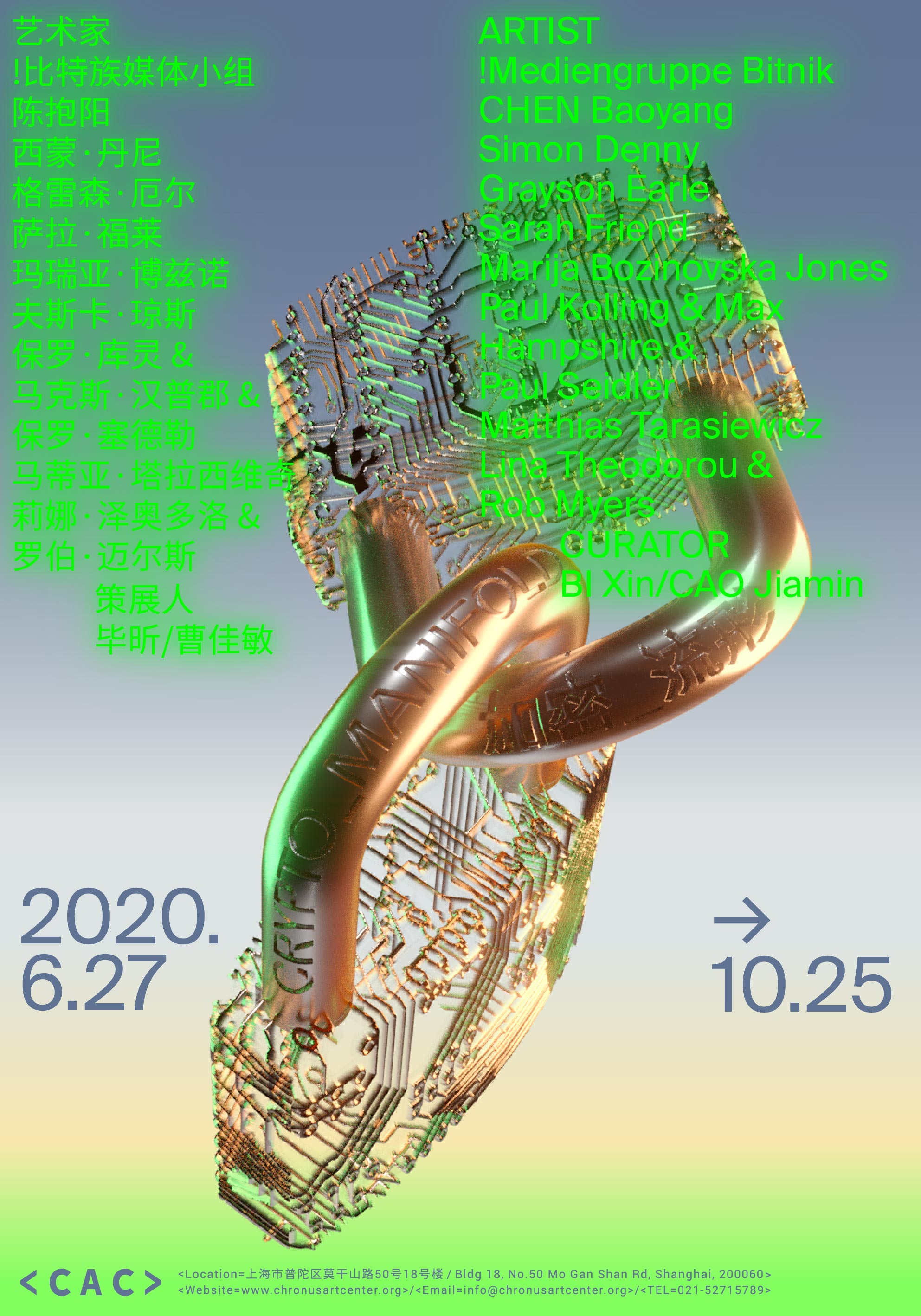 crypto_manifold
2020.6.27 - 2020.10.25
Chronus Art Center (CAC)
BLDG.18, No.50 Moganshan RD., Shanghai
Artists: 
!Mediengruppe Bitnik, CHEN Baoyang, Simon Denny, Grayson Earle, Sarah Friend, Marija Bozinovska Jones, Paul Kolling & Max Hampshire & Paul Seidler, Matthias Tarasiewicz, Lina Theodorou & Rob Myers
Curators:
BI Xin, CAO Jiamin
Special thanks
ETHPlanet
Chronus Art Center is pleased to announce the summer exhibition crypto_manifold, featuring works by artists !Mediengruppe Bitnik, CHEN Baoyang, Simon Denny, Grayson Earle, Sarah Friend, Marija Bozinovska Jones, Paul Kolling & Max Hampshire & Paul Seidler, Matthias Tarasiewicz and Lina Theodorou & Rob Myers. The exhibition will open to the public on June 27, 2020 and remain on view through October 25, 2020.
In 1993, The New Yorker published Peter Steiner's cartoon "On the Internet, nobody knows you're a dog," poking fun at online anonymity that hides the user's identity, or even species, behind a screen. In the past forty years, with the rise of various kinds of P2P (point-to-point) network topologies, many Internet activists have advocated for decentralized autonomous sovereignty. Yet, the inherent lack of virtual trust continues to drive the growth of third-party institutions and "super platforms" that provide online verification and management services. These institutions collect user data, whether in the name of ensuring those users' rights or merely for economic gain. Encroaching governmental intervention and digital capitalism have tarnished the utopian aspirations many initially held for the Internet's possibilities. Furthermore, after Wall Street triggered the 2008 global financial crisis, establishing bonds of trust between the public and financial institutions had become ever more necessary.
During the global financial crisis, the pseudonymous entity Satoshi Nakamoto outlined a new protocol for a peer-to-peer electronic cash system through the development of the cryptocurrency bitcoin. In the form of distributed computations, this protocol establishes a set of rules, such as proof-of-work (POW), value as incentive, distributed power and cryptographic security. These rules aim to secure the integrity of the data exchange among billions of devices without going through a trusted third party. On a blockchain, all transactions and interactions among actors are recorded and stored in an immutable, distributed ledger. The algorithm and self-executing smart contract replace the intermediaries. The code-in-action infrastructure provides the distributed trust system. Blockchain technology undoubtedly stimulates the imagination --- it makes us wonder, apart from the Internet of Information, are we able to realize an Internet of Value? Would this form of the Internet be capable of safely storing, managing, exchanging and moving assets, personal identities, artistic creation, and even ballot? Could opportunities and prosperity flow directly from the source, bypassing traditional hierarchical systems of wealth creation and distribution?
crypto_manifold presents artists' multifaceted exploration and affective investigation of the panoptic application of blockchain technology. The nine featured projects respectively place technological topics, such as DAO (decentralized autonomous organization), cryptocurrencies and tokens, smart contracts, and crypto algorithms into dialogues with wider social and cultural context. While presenting manifold perspectives, the exhibition also constructs a kind of topological manifold space, hence the title. This technology, impregnated with a vision of rational exuberance as opposed to irrational exuberance accelerated by financial bubbles and market manipulation, proposes a practical way to realize an autonomous future and stands as an economical prototype of the posthuman era. Yet, we remain skeptical of this potential. Bitcoin mining farms consume tremendous natural resources, and debate is polarized between Anarcho-capitalism and avid technocrats. Under such circumstances, could this decentralized infrastructure fix the problems of the current financial system, manifested in an increasing disparity between the rich and the poor, financial capital sovereignty and monopolization, and commodification of both human relation and sensory experience? Or will blockchain technology merely extend such corruption, a digital consensus co-opted by capital?