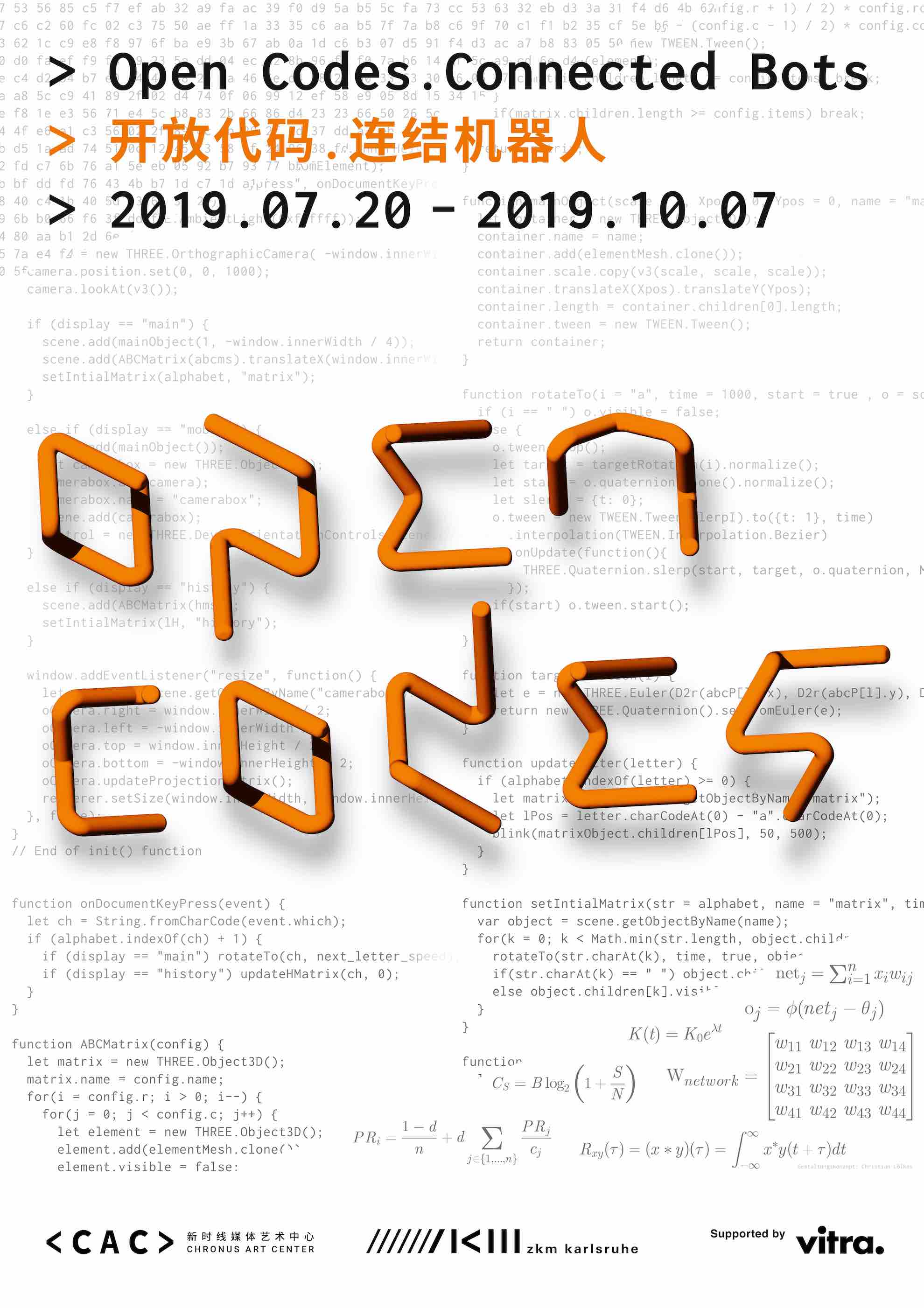 Open Codes. Connected Bots
July 20 – October 7, 2019
Chronus Art Center (CAC)
BLDG.18, No.50 Moganshan RD., Shanghai
Curated by
Christian LÖLKES, Lívia NOLASCO-RÓZSÁS, and ZHANG Ga
Artists
aaajiao, Zach Blas and Jemima Wyman, Bleeptrack, James Bridle, Max Cooper and Andy Lomas, Kate Crawford and Vladan Joler, DISNOVATION.ORG , Jonas Eltes, César Escudero Andaluz and Martín Nadal, GUO Cheng, Bernd Lintermann, Shawn Maximo, Joana Moll, Sebastian Schmieg, Adam Slowik, Nye Thompson, WANG Changcun, Peter Weibel and Christian Lölkes, ZKM, 996.ICU
Co-organized by
Chronus Art Center (CAC),ZKM | Center for Art and Media Karlsruhe
Supported by
Vitra
Chronus Art Center (CAC) is pleased to announce the exhibition Open Codes. Connected Bots, co-organized by CAC and ZKM | Center for Art and Media Karlsruhe, Germany. The exhibition and educational project Open Codes reflects on the world we live in today; a world that is created and controlled by codes. From immaterial communication of information to material transportation of people and goods, from design to production, our contemporary societies are guided by codes written in programming languages executed by electromagnetic logic in computers.
Open Codes is a new form of assembly, where knowledge production on making and understanding computer code and artistic approaches takes place at a single venue, and which will transform CAC into a multifunctional new media and the art of coding laboratory.
With the aid of numerous works by artists and coders, the exhibition presents the world of digital codes and the future areas of life influenced by them in sections such as: #GenealogyOfCode, #Coding, #MachineLearning, and #Labor&Production. These key terms contribute to outlining an imaginary map, which serves as the grounding for understanding the digital world we inhabit.
After the success of satellite exhibitions at the Max Mueller Bhavan Gallery in collaboration with the Goethe-Institut Mumbai, the project will be implemented newly at CAC, with the same aims and concept, but in a topically adapted form.
Open Codes. Connected Bots at CAC is a satellite exhibition of Open Codes at the ZKM | Center for Art and Media Karlsruhe, Germany, which runs from October 20, 2017 to June 2, 2019.
With generous support by: