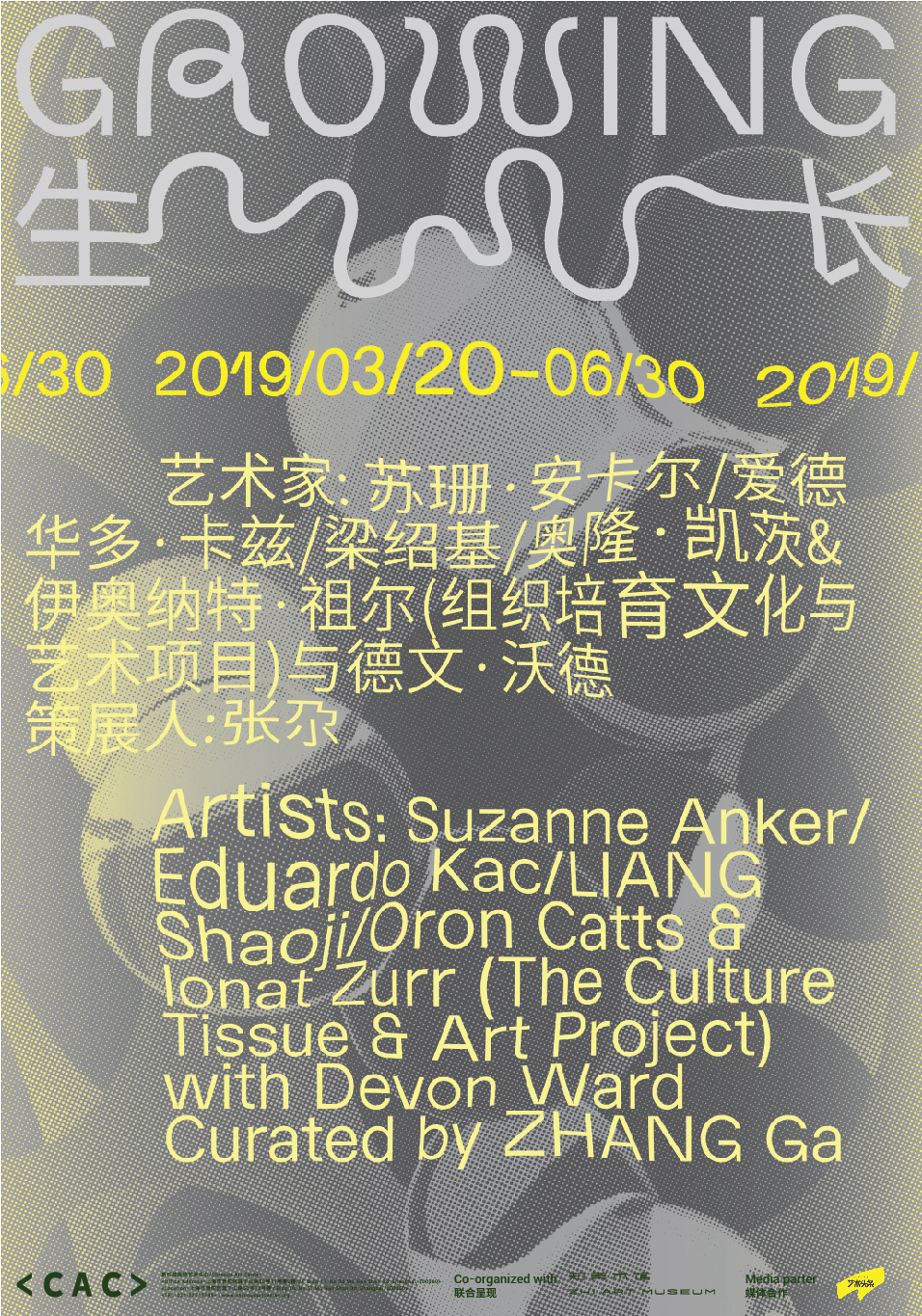 Growing
March 21 – June 30, 2019
Chronus Art Center (CAC)
BLDG.18, No.50 Moganshan RD., Shanghai
Artists
Suzanne Anker, Eduardo Kac, LIANG Shaoji, Oron Catts & Ionat Zurr (The Tissue Culture & Art Project) with Devon Ward
Curated  by
ZHANG Ga
Co-organized by
Chronus Art Center (CAC), ZHI ART MUSEUM
Opening Reception & Artist Talk
March 23, 2019 (Saturday)
Artist Talk: 4:00 – 5:00 pm
Opening Reception: 5:00 – 7:00 pm
On View
11 am – 6 pm Wednesdays – Sundays
Admission: ¥ 20 (Free admission on Wednesdays)
*Free entry after 4pm on March 23.
Chronus Art Center (CAC) is pleased to present the exhibition Growing, co-organized by CAC and ZHI Art Museum. Growing features the works by four pioneering artists working at the intersection of living organism, synthetic biology and ecological activism.
Unassuming as it seems, Edunia (Eduardo + petunia) by Eduardo Kac bore witness to the first blossom of human-plant crossbreeding. Suzanne Anker's most recent work Immortal Cities conjugates specimens from the natural world and items from the industrialized domain cohabiting in an in-vitro cityscape. Titled Vessels of Care and Control, the SymbioticA artists once again stir up a contestation about the role of technical utility, insinuating a provocative perception of incubator both as a contraption of care/nurture and controlled life as well as a conceptual and biopolitical apparatus. Occupying an entire adjacent gallery, LIANG Shaoji presents a comprehensive body of work that encapsulates his long fascination with the life cycle of silkworms, in which a testimony of life unfolds in vivid progression.
Rather than a rhetoric signifier, the exhibition Growing compels the visitors wi­th an experiential and visceral encounter with life forms of natural origin and of artificial inception, or from symbiotic habitat and transgenic hybridity as sources of becoming, thus problematizing the orthodox of Aristotelian taxonomy, soliciting a prospect that complicates the conception of homeostasis, metabolism and the umwelt as fundamental manifestation of life.  Growing not only attests to such energetics as the impulse of nature, but also illuminates the act of growing as a technological force that extends the notion of nature to a new paradigm in which ecology without nature calls for another reality on the horizon.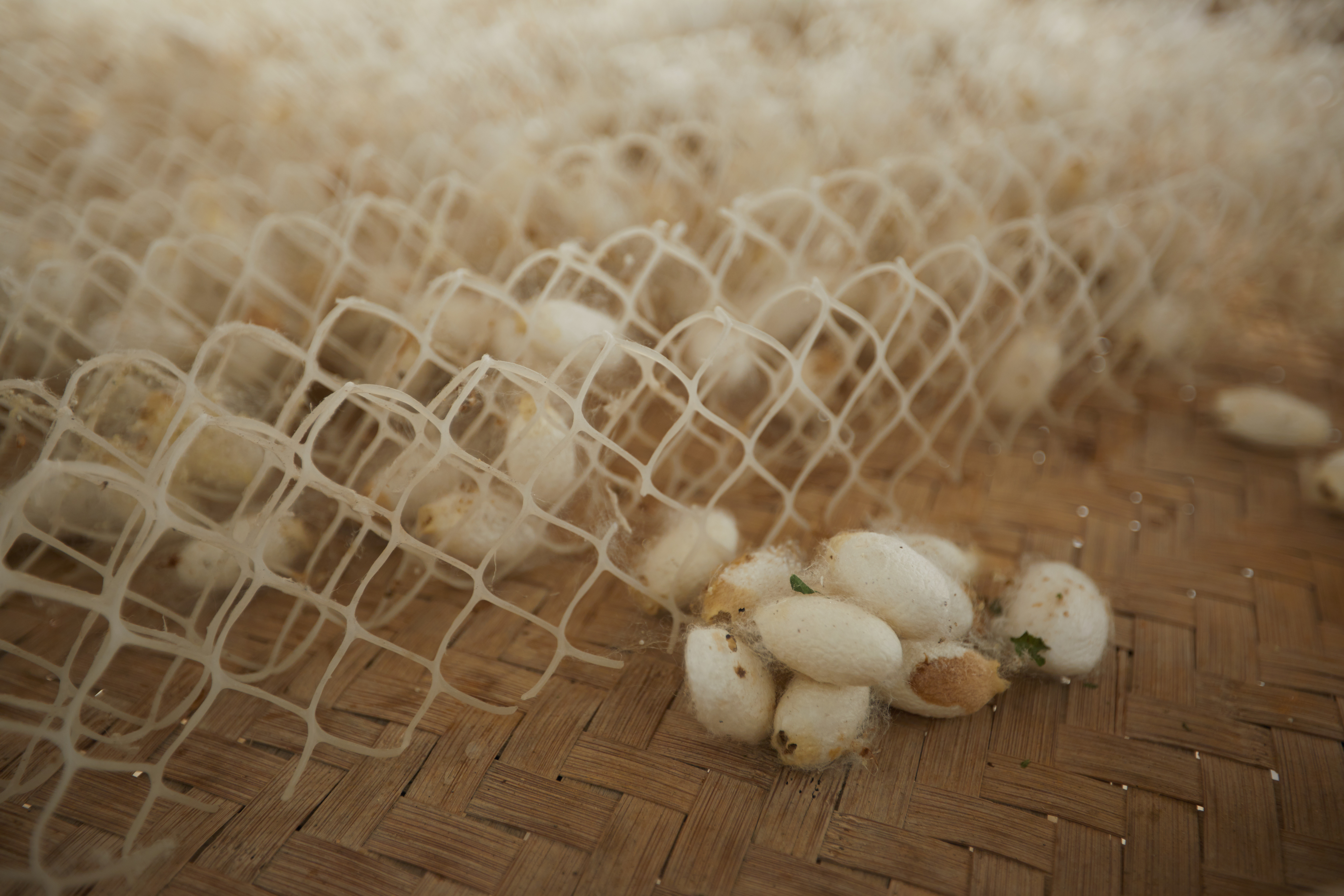 Co-organized by 
Established in 2013, Chronus Art Center (CAC) is China's first nonprofit art organization dedicated to the presentation, research / creation and scholarship of media art. CAC with its exhibitions, residency oriented fellowships, lectures and workshop programs and through its archiving and publishing initiatives, creates a multifaceted and vibrant platform for the discourse, production and dissemination of media art in a global context. CAC is positioned to advance artistic innovation and cultural awareness by critically engaging with media technologies that are transforming and reshaping contemporary experiences.
www.chronusartcenter.org
Located at the foot of Chengdu's Taoism Laojun Mountain in Southwest China, ZHI ART MUSEUM's serene architecture brings to life the beauty and tranquility of Zen. An iconic work by renowned Japanese master architect, Kengo Kuma, the museum embodies the Eastern philosophy of "Learning from Nature." With the use of water as key feature, and the exploration of natural materials throughout, the architecture organically integrates its surrounding elements harmoniously. The tranquil flow and soft movements surrounding the entirety of the museum allow for contemplation and evoke notions of eternity through its unity with nature.
ZHI ART MUSEUM focuses to explore global contemporary art and its qualities as a force of universality, in the context of the future, present and past of Eastern aesthetics. The meaning of ZHI is to be an open concept, always striving to move from the world of the known to the unknown, and from the finite to the infinite. Within these parameters ZHI ART MUSEUM's aim is to explore the integration of human inspiration and technology within the multiple facets of art, while also building a groundbreaking in-depth contemporary art collection and an unparalleled exhibition program, that together will foster a vital contribution to the integrity and creativity of art and art history of the 21st century.
The museum's core concept is based on the three principles of: Universality, Insight, and Innovation.
www.zhiartmuseum.com
 Supported by 
Established in 1911, the University of Western Australia (UWA) is a part of the Group of Eight, a coalition of world-leading, research-intensive Australian universities.
https://www.uwa.edu.au/
Media Partner