On view: 2015.11.22-12.31
Opening reception: 2015.11.21, 4pm
Venue: Chronus Art Center
Address: BLDG.18, No.50 Moganshan RD., Shanghai
Chronus Art Center (CAC) is pleased to present Interstellar Stella, an exhibition by the British artist duo AL and AL.
Interstellar Stella features a 12'17'' cinematic work that combines live action performance with computer-generated environments to create fantasy worlds and dream landscapes in which a child model embarks on a journey of discovery inside a labyrinth formed by her own advertising pictures. Ostensibly laden with science fiction metaphors of transfiguration and rebirth, myths and symbols, and further embedded with car crash spectacles, faceless men in uniforms, billboard stars and moving shadows, the film stages a parallax narcissus and links the origins of paparazzi with observations on the extreme results of mediated desire.
Whilst composited in stunning computer-generated imagery, Interstellar Stella renders the harsh reality of synthetic times and a digital world in flux.  It thus acts as a mirror of technology itself, reminding us of both the promises and perils of technological seduction. Through its dizzying perspectives and the use of dense exotic imagery, signs and symbols, the film recalls Guy Debord's thesis on spectacle and the image-saturated, mediated world in his Society of the Spectacle, and Baudrillard's notion of the "precession of simulacra" as such.
Alongside its diagnosis in the structure of contemporary screen dreams and illusions, the work extensively evokes ancient myths. The elusive narrative is formed in a way that could be read as a modern technological extension of the "method of loci", an imaginal technique invented by the Greeks who sought to memorise through impressing images and places on memory. Yet unlike the Greeks for whom the manipulation of images in memory involves the psyche as a whole, does human today, with her increasing accessibility to technology, tend to be more easily manipulated by images instead?
Interstellar Stella
Interstellar Stella | 2006 | HD video | 1920x1080 digital video file format. Stereo sound.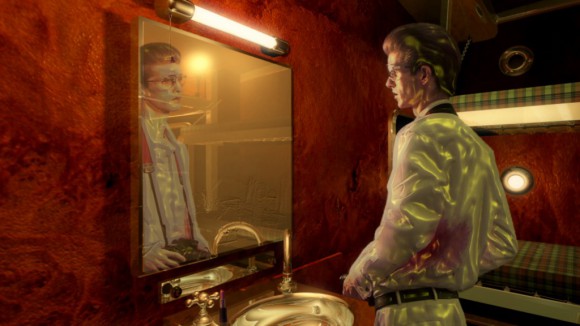 Interstellar Stella focuses on the redemptive child, a saviour trailing clouds of glory to heal adult wounds and purify our corruption. AL and AL, inspired by their 8 year old niece's career as a child model create a fable in which she does not only convey the desire of others (commercial, aspirational) but acts in her own right. Repossessing herself in the dream space of the film involves the child exercising authority over her own images – a squad of image breakers dressed like special agents serve her in the film. Interstellar Stella explodes the love of images and submission to their powers. It is a film in the iconoclastic tradition, demanding that the viewer grasp that the pictures it makes are an illusion on the screen to show up the facticity, unreliability, and false promises of our society of the spectacle.
About the Artist
AL and AL investigate the shaping forces of fantasy and reality: they both create dream worlds and stand back in their art to draw attention to their power over us, plunging the spectator into a virtual world of dizzy dimensions. Since 2001 the British duo have combined video performance and computer generated images to create mythic films, exhibiting internationally in galleries, site-specific installations, live concert hall performances, television and film festivals.
AL and AL are currently working on a sci-fi trilogy, collaborating with the physicist Brian Greene and composer Philip Glass on the black hole space opera, 'Icarus at the edge of Time' which will premiere at the New York Metropolitan Opera House. The duo are also in pre-production on their debut feature film, 'The Creator'; a sci-fi myth about Thinking Machines from the future who travel back in time to meet their creator Alan Turing. In 2016 AL and AL present a new commission, the world premiere of their DNA myth 'The Demiurge', in collaboration with nanobiophyisicist Bart Hoogenboom, at HOME Gallery Manchester, in an expansive solo exhibition of their work.
About the Series
Interstellar Stella is the seventh exhibition in a series of screen-based works organized by the Chronus Art Center. Conceived by ZHANG Ga, this exhibition series examines, through seven international artists' projection works, each presented in a month-long solo exhibition, dynamically generated audiovisual systems that artists have custom-made, real-time transmitted images which demand protocols other than those readily available, idiosyncratic animation techniques for which given rules will be rewritten, and subject matters estranged from the populist safe haven. The artists presented in this series often exploit an algorithmic logic distinct from the predominant language that speaks the parlance of video art—software presets and editing routines for visual manipulation and content authoring—thereby disrupting and sabotaging the economy and the ideology of image production implicit in the very tools and means that produce narrative and construct meaning. In doing so, they have developed a new aesthetic sensibility beyond the received notion of video art as such, extending the rich tradition of media art seen in the pioneering experiments of Walter Ruttmann and Dziga Vertov of the 1920s; by the canonical works of Michael Snow, the Vasulkas and Nam June Paik, to name just a few, of the mid-century; to the digital contemporary, and opened new potentials for tending individuated perceptual spaces that can acculturate the spectacles of cosmic magnitude and the facticity of the everyday, imagined or otherwise.
Series Artists
AL and AL