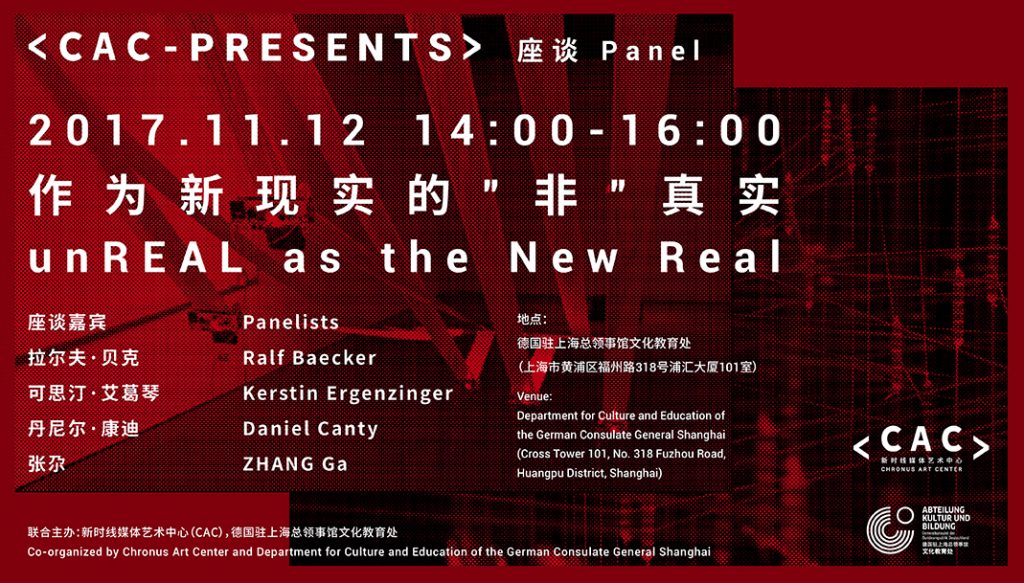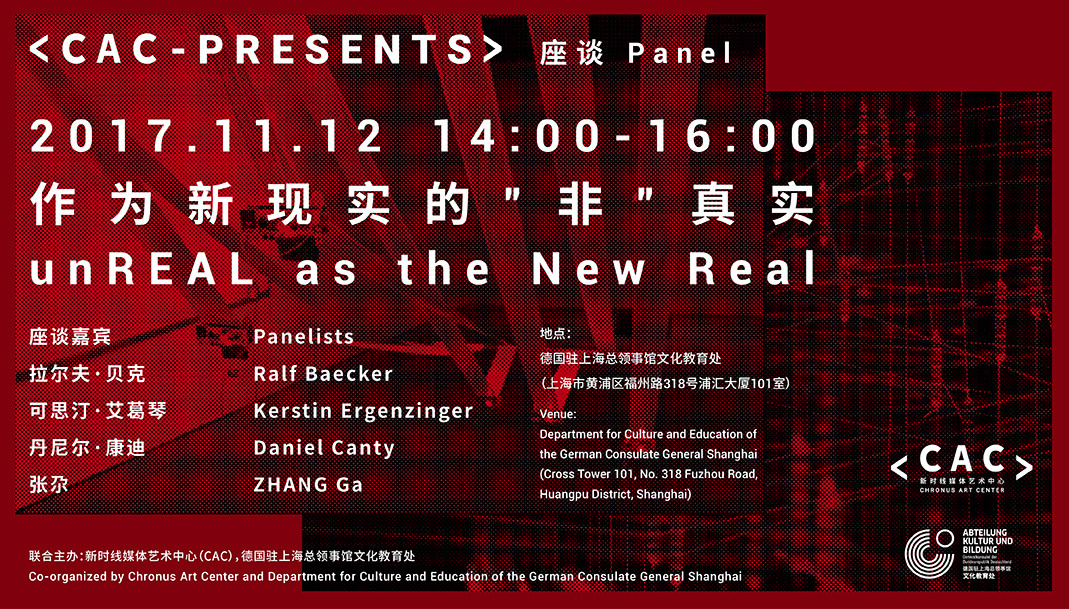 Panel | unREAL as the New Real
Guests: Ralf Baecker, Kerstin Ergenzinger, Daniel Canty, ZHANG Ga
Time: 12.11.2017, 14:00-16:00
Language: English/Chinese
Venue: Department for Culture and Education of the German Consulate General Shanghai
Address: Cross Tower 101, No. 318 Fuzhou Road, Huangpu District, Shanghai
Co-organized by Chronus Art Center and Department for Culture and Education of the German Consulate General Shanghai
Free admission. To reserve a seat, please click here
In contemporary art of the last fifty years, the concept of real has often been characterized as an embodied engagement of social transformation and an imagined utopia against a pictorial formalism. With the advent of mass consumption of the internet and the ubiquitous deployment of digital devices, a technologically constructed time-space has largely reshaped our concept of temporality and spatiality, work and play, politics and economics. Reality thus takes on a new level of complication that resists any easy categorization and signification. Along with this new reality where the politics of the real no longer lies only in the sphere of the social, here we are confronted with this fundamental question: who has the ownership of this new reality that is constructed by the materiality of bits and bytes and the algorithmic power of the digital?
As part of the public program associated with the CAC exhibition unREAL.the Algorithmic Present, on Sunday November the 12th, the artists Ralf Baecker and Kerstin Ergenzinger, together with Daniel Canty - Ergenzinger's collaborator for her work Wanderer – Spacetime Poetry, will be joined by ZHANG Ga, co-curator of the exhibition and artistic director of Chronus Art Center, for a panel discussion entitled "unREAL as the New Real" at the Department for Culture and Education of the German Consulate General.
Ralf Baecker: Interface I, 2016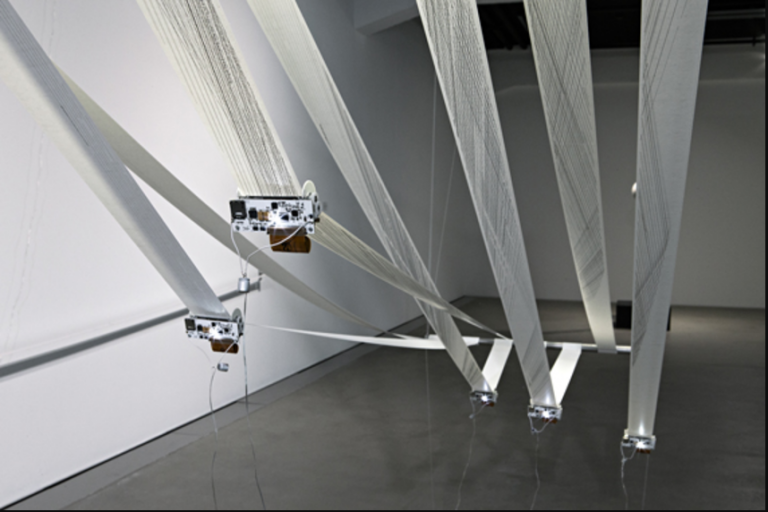 Kerstin Ergenzinger: Wanderer – Spacetime Poetry, 2017
Biographies 
Ralf Baecker, German artist born in Düsseldorf in 1977, works at the intersection of art, technology and science. In his installations and built machines, Baecker explores the fundamental mechanisms of the action and effect of media technologies. In his representations and spatial depictions of microscopic processes he attempts to put our perception to the test.
http://www.rlfbckr.org
Kerstin Ergenzinger, born in 1975, lives in Berlin. In her works she explores the sensory and conceptual relationships between the individual and its physical environment. By focusing on processes of perception, on technologies and strategies applied in the production of knowledge and more specifically in spatial and mental navigation, she examines the limits of human perception and our ability to understand and interpret our environment.
http://www.nodegree.de
Daniel Canty is a writer and director hailing from Montréal, Québec. His work circulates between literature, cinema, the visual arts, theatre and design and has been shown in various international contexts. He provides words and dramaturgy for the scriptural automata of Wanderer – Spacetime Poetry.
www.danielcanty.com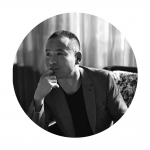 ZHANG Ga is artistic director of Chronus Art Center and an internationally recognized media art curator. He is Distinguished Professor at China Central Academy of Fine Arts and Senior Fellow at University of California Santa Barbara. Previously, he was a Professor at the Academy of Arts and Design, Tsinghua University, and Associate Professor of Media Art at Parsons School of Design, and has held visiting positions at the MIT Media Lab, Stanford University, The Graduate Center, CUNY and Swiss Federal Institute of technology Lausanne (EPFL).  In his capacity as Consulting Curator of Media Art at the National Art Museum of China from 2007–2014, he curated the widely acclaimed international media art triennial series including Synthetic Times (2008); Translife (2011), and thingworld (2014), among others. These large-scale exhibitions critically investigated and examined global media art trends, and generated intellectual discourses about art, technology and culture. He served on the juries for Prix Ars Electronica, VIDA, and Franklinfurnace's Future of the Present Award, to name a few. He has spoken widely on media art and culture around the world and has edited several books and authored essays that were published by the MIT Press, October, Liverpool University Press and Tsinghua University Press. He currently serves on the editorial board of Leonardo Books, published by the MIT Press.
About Department for Culture and Education of the German Consulate General Shanghai

The Goethe-Institut is the cultural institute of the Federal Republic of Germany with a global reach. The Institute promotes knowledge of the German language abroad and fosters international cultural cooperation. It conveys a comprehensive image of Germany by providing information about cultural, social and political life in the nation. Cultural and educational programmes encourage intercultural dialogue and enable cultural involvement.
In Shanghai the Department for Culture and Education of the Consulate General of Germany (Abteilung Kultur und Bildung) performs the tasks of the Goethe-Institut.