Guest: Tuomas A. Laitinen
Date: 2013-09-29  18:30 ~ 2013-09-29  20:00
Address: BLDG 18, No. 50 Moganshan RD, Shanghai
Organized by Chronus Art Center and N-Minutes Video Arts Festival
Planned by LI Ningchun
Free admission. Please make reservation via info@chronusartcenter.org
The first audio-visual event of N-Minutes III
The event includes two parts. Finnish artist Tuomas A. Laitinen will introduce several series of his recent artworks, and present a live sound performance together with his video work afterwards. We hope to share his unique audio-visual creation through the event (also his first in China). Limited signed posters will be handing out for free.
About the Artist
Born in Riihim?ki, Finland. Lives and works in Helsinki and San Francisco.
2004 – 2008 MFA, Finnish Academy of Fine Arts, Department of media art
Tuomas Laitinen is a visual artist who works with various media including light boxes, neon, video, printmaking and sound.
N-Minutes Video Arts Festival
N-Minutes Video Art Festival is a public art project, which aims to promote video art among the wide audience and urban spaces. N-Minutes was founded in 2011, and it would be held every year during September to October in Shanghai. With various art activities including screening, mapping, audio-visual performance, exhibition and lecture, N- Minutes weaves video arts into urban life and interacts with the audience, enabling a new possibility of public art.
N-Minutes Video Art festival crée un événement interactif, un dialogue urbain entre vidéo et usagers multiples de l'espace public. L'objectif est de libérer l'art, de le faire sortir du musée, en l'invitant dans la rue en encourageant ainsi le grand public à participer à des activités artistiques, pour aboutir à une multiplication des fonctions des espaces de la ville et donner une place à l'art dans la vie quotidienne.
Official website: www.n-minutes.org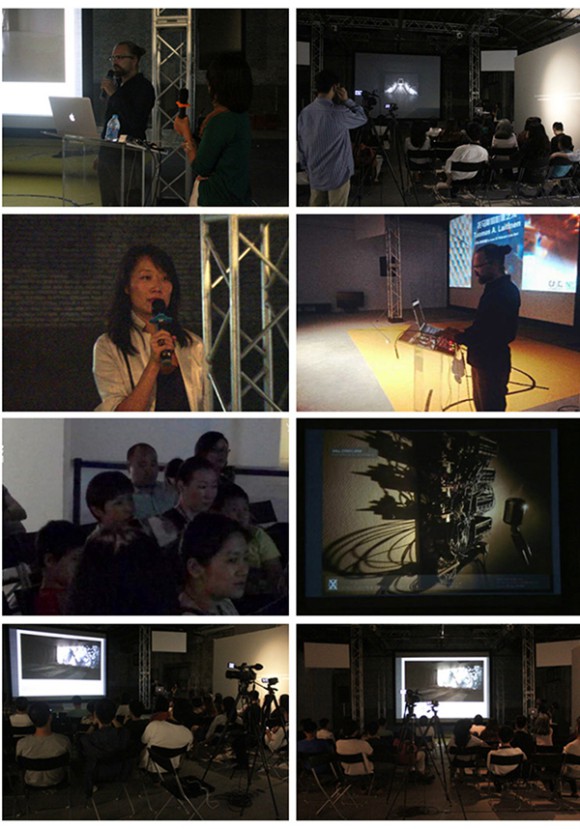 Video: