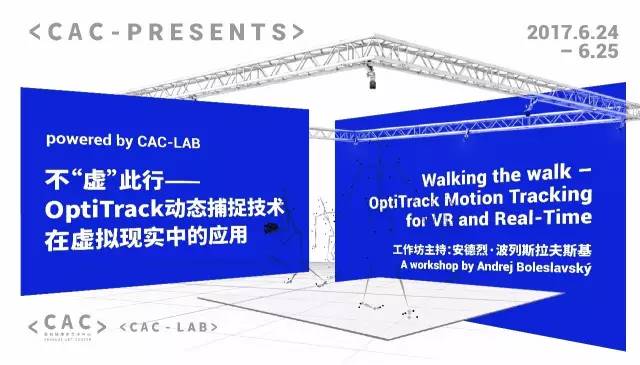 Powered by <CAC_Lab>
Walking the walk – OptiTrack Motion Tracking for VR and Real-Time
A workshop by Andrej Boleslavský (Current artist in residence at CAC_Lab)
Date: 2017.6.24 – 6.25
Time: 6 hours/day (11.00 – 13.00, lunch break, 14.00 – 18.00 includes tea break)
Venue: Chronus Art Center
Address: bldg. 18, No.50 Moganshan Road, Shanghai, China
Language: English
Tuition Fee: 200 RMB per person for two days ( 50% off for CAC members, click here to join)
*To participate, please click here 
About the Workshop 
The two-day workshop explores the professional optical motion tracking system OptiTrack, which is also the technology core for CAC spring Research and Creation Fellowship. This system is the industry accepted platform for analyzing human motion, recording and use in CGI, as well as for gaming and medical imaging. It is also a popular tool for developing real-time location detector and motion based applications. The workshop will bring the participants the basic knowledge and skills of utilizing OptiTrack motion tracking system on robotics tracking, as well as motion and environment capturing.
Led by CAC fellowship artist Andrej Boleslavský, participants will experiment with the system of OptiTrack, they will learn how to setup and calibrate it and how use the functionalities of the system in a real-life scenarios in a hands-on part of the workshop. Moreover, participants will have a chance to compare the OptiTrack with alternative systems. By the end of the workshop, participants will experience the early prototype of Boleslavský's fellowship proposal ZhuoMiCang (Hide & Seek).
# Keywords: OptiTrack, motion capture, motion tracking, Unity, C#, VVVV, marker, drone, VR, 3D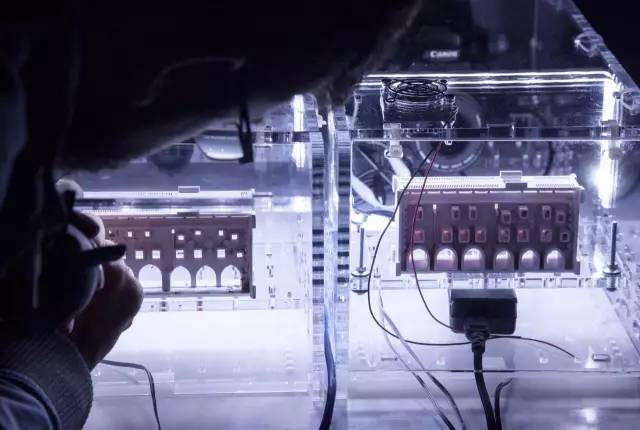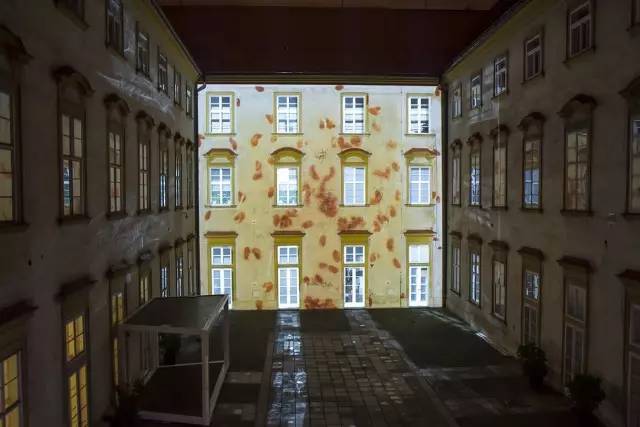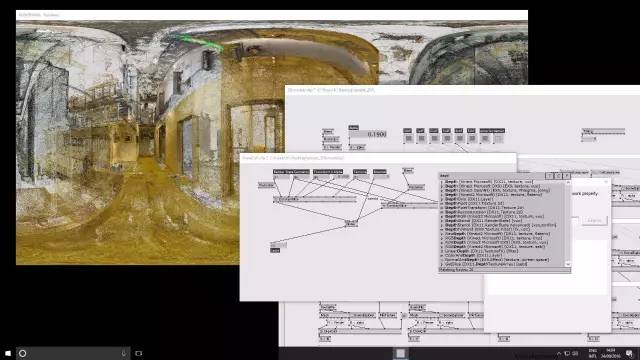 < Structure >
DAY 1 | 24th June 2017, Saturday
11:00 – 13:00
- Briefing by Andrej Boleslavský about the workshop
- Introduction to motion tracking and capturing
- Introduction to OptiTrack
(Lunch Break)
14:00 – 18:00 
- System setup and calibration exercise
- Implementation of OptiTrack within game engine Unity and VVVV
- Introduction of alternative motion tracking systems
DAY 2 | 25th June 2017, Sunday
11:00 – 13:00
- Behind the scenes, exploring the NatNet C# SDK
(Lunch Break)
 14:00 – 18:00
- Real-time tracking examples
        o   Drone automation
        o   Large scale VR
        o   3D painting with VR
-  Experiments with early prototype of Hide&Seek game
< Requirements for participants >
1.  Maximum number of participants: 10
2.  Participants should bring their own laptops, Windows preferred, Mac is optional.
3.  Participants should install Unity in advance, VVVV is optional.
4.  This workshop is designed for media artists, interaction designers, technologists and programmers, and the general public with relevant experience and basic knowledge.
About the Artist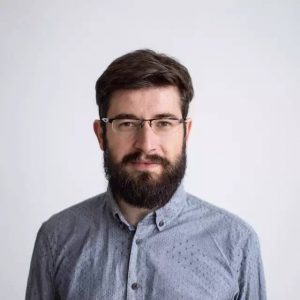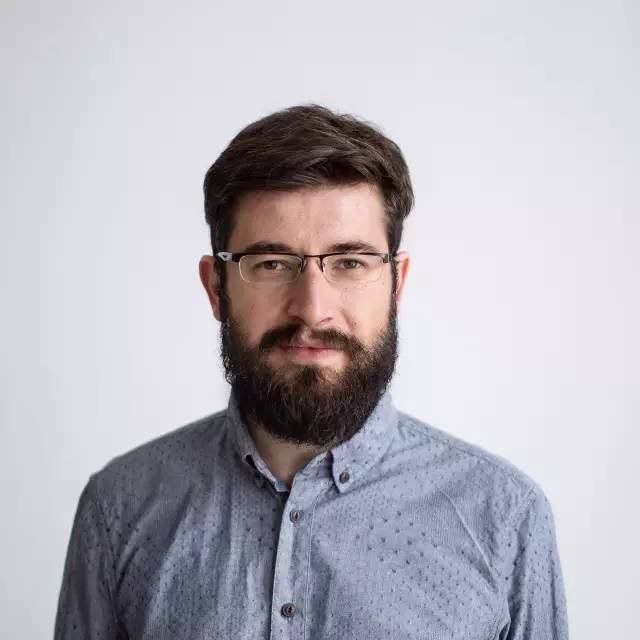 Andrej Boleslavský is an independent artist purposing technology in the fields of new media art, interactive design, physical computing and 3D printing. His work also maintains a strong fascination with the entanglement of nature and technology. He has developed many interactive installations and lectured on open source software, programming platforms VVVV and Arduino. He lately exhibited at Editions of Light Vol.II in Prague, Poolloop festival in Zürich, Signal festival in Prague, Designblok'14 in Prague, 3D print show in New York and WRO festival in Wroclaw. In addition to his work he is actively involved in technological solutions for other Czech and foreign artists, for instance in installation for Expo Milano 2015.
Andrej Boleslavsky is the artist who has been awarded the third Research/Creation Fellowship of CAC. During his 3-month residency, he will work closely with CAC to realize his project Hide & Seek.➟ More info
About <CAC_LAB> 
This workshop is part of the Powered by CAC_LAB Series by which CAC_LAB enables dialogues between artists, academics and technologists with unique visions on the field of new media art and currently active in the world of Research and Creation. 
<CAC_LAB> is a space dedicated to the inquiry of present-day matters regarding art, design, science, technology and their impact on global contemporary culture and society. Through artistic practice, technological tools and research methodology, we enable creative processes that result in works of art of high production and academic value. <CAC_LAB> is a space of flux which encourages artistic practice as a generator of new knowledge, a territory where art and science converge into a contemporary and experimental field of academic research; free from main stream cultural thought, technological stress and economical diversions.