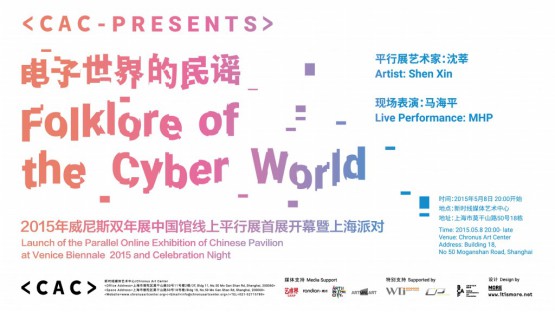 Guest: Shen Xin, MHP
Date: 2015-05-08  20:00 ~ 2015-05-08  24:00
Address: Building 18, No 50 Moganshan Road, Shanghai
Folklore of the Cyber World
Launch of the Parallel Online Exhibitions & Celebration Night
Chronus Art Center (CAC) invites you to "Folklore of the Cyber World" Launch of the Parallel Online Exhibitions and Celebration Night.
On 8th May 2015, CAC will inaugurate the parallel online exhibitions in Shanghai with Shen Xin's Rhythms of Work - Means Something to You, in which the interior of the Chinese Pavilion is teleported to CAC's Shanghai space as a defective holographic avatar performs a dramaturgy juxtaposing the real and unreal, unfurling a ghostly story of work, labor, body, wealth, class, and death. At the same time, in conjunction with CAC's special event at Chinese Pavilion, CAC will host a celebration night in Shanghai with live performance by MHP.
Rhythms of Work - Means Something to You
Artist: Shen Xin
Duration: 8th May- 7th June, 2015
About Folklore of the Cyber World
As the new media art partner institution of the Chinese Pavilion, Chronus Art Center will organize a series of parallel online projects under the theme of Folklore of the Cyber World to extend the Other Future envisioned by the Chinese Pavilion to cyberspace, revealing the vigor and brio of the younger generation of Chinese artists in their critical engagement with the pervasive media society and creative use of new technologies.