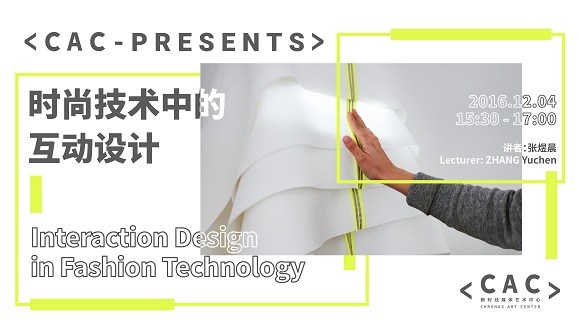 Interaction Design in Fashion Technology
Speaker: ZHANG Yuchen
Date: 04.12.2016
Time: 15:30-17:00
Organizer: Chronus Art Center
Powered by: CAC_LAB
Address: BLDG 18, No.50 Moganshan Road, Shanghai
This event is free for public. To reserve a seat, please send your name + contact info to info@chronusartcenter.org
With the emergence of fashion technology, clothing is no longer passively providing us comfort and protection. Interactive garments and wearables are active interfaces that are changing the way we think and communicate. Artist ZHANG Yuchen will show you how cutting edge designers and artists are using principles of interaction design to rethink garment and wearable design.
Interaction Design in Fashion Technology is the inaugural talk of a series of events continuously powered by CAC_LAB. Through this series of events, CAC_LAB enables dialogues between artists, academics and technologists with unique visions on the field of new media art and currently active in the world of Research and Creation.
About the Speaker
ZHANG Yuchen is a creative technologist with an interest in fashion, design, and technology. After working professionally for a number of years as a designer in leading branding firms, she left to earn her masters in Design Technology at the Parsons School of Design. Since graduating in 2014, she has immersed herself in the world of wearable technology. Her technologically-enhanced fashion pieces have been shown at events around the world, including the Engadget Expand conference in 2014 the NYC Media Lab Annual Summit in 2014 and 2015, and at CeBit Hannover, Germany, and in the print edition of MAKE magazine. She recently was a fellow at the MIT Open Style Lab and now is a Technology fellow at the Brooklyn + Design Accelerator.
<ABOUT CAC_LAB> 
<CAC_LAB> is a space dedicated to the inquiry of present-day matters regarding art, design, science, technology and their impact on global contemporary culture and society. Through artistic practice, technological tools and research methodology, we enable creative processes that result in works of art of high production and academic value.
<CAC_LAB> is a space of flux which encourages artistic practice as a generator of new knowledge, a territory where art and science converge into a contemporary and experimental field of academic research; free from main stream cultural thought, technological stress and economical diversions.
<CAC_LAB> is currently engaged in a long term research project which involves the development of a mixed reality, immersive and interactive platform that uses virtual and/or augmented reality, position and motion tracking,  neuro-feedback (EEG – brainwaves) and wearable technologies, in order to enable new forms of artistic practices and narratives. This initiative is born from a mix of various of our main lines of research (emotive networks & haptic gaming, generative art & big data, intelligent audiovisual systems, existential technologies, it from bit) and has evolved its own sub-research areas. This year our fellowship aims to host an artist whose project inquires in one or more of the areas listed bellow:
A) Virtual / Augmented Reality: Within the scope of our research, we are interested in exploring alternative ways of engaging with the more conventional applications of VR and AR by rethinking our current understanding of digitalized visual representations of reality.
B) The Digital Brain: With the emergence of accessible and portable electroencephalographic technologies the possibility of having brain-computer-interfaces applications in the arts has become a major field of interest. Currently we are dedicated to the exploration of ways of classifying, interpreting and representing brain data through artistic practice.
C) Wearable Computing and Physical Interfaces: Interacting with digital layers of represented data is always a challenge for art installations and responsive environments. This particular line of research is concerned with the creation of wearable controllers and physical objects which enable interactions between humans and digital content.
D) Sensory Immersion: Representing digital data in non-visual ways is often a challenge. We are interested in exploring ways of translating digital content into experiences beyond the conventional audiovisual forms; experimental audio, haptic and olfactory feedback being a few examples of these.
More infomation: http://lab.chronusartcenter.org/