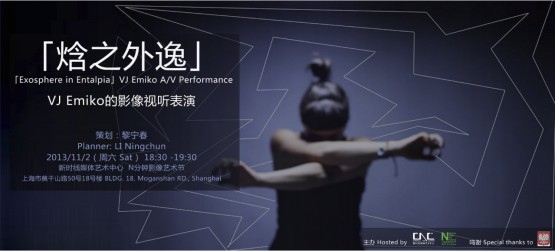 Guest: VJ Emiko
Date: 2013-11-02  18:30 ~ 2013-11-02  19:30
Address: BLDG.18, No.50 Moganshan Road, Shanghai
Artist: VJ Emiko
Planner: LI Ningchun
Organized by Chronus Art Center and N-Minutes Video Arts Festival
Special thanks to Polish Embassy in Beijing and Consulate General of Poland in Shanghai
Free for admission. Please make reservation via info@chronusartcenter.org
"Exosphere in Entalpia" videopoetry a/v project is created by VJ Emiko.
This experimental live cinema / video art performance oscillates around something unprecised, undefined, showing emotional states of human being.
Humans feel the lack of space, oxygen, time, sense of being and have a problem with identity - is located somewhere in/between.
video : https://vimeo.com/59512319
This project was presented live  in 2013 @ AVAV /Sao Paulo, Expanded Vjism Budapest Showcase ,  Electrovision Cinema in London , LPM Rome and Proyecto Hybrido in Barcelona
About the artist
VJ EMIKO / Emilia Gumańska - visual artist, photographer, video designer and producer from Poland.
The winner of VJ Torna Championship 2011 during Live Performers Meeting Mińsk edition, Pre-production and VJ Battle Category in Mexico City 2013 and winner of Modul8 video contest.
Vj and a/v sets are based on various video projects of her own authorship.
She experiments with light, self made scenography elements and stylisation.
Projects by VJ Emiko, connecting body motives and its movement with graphical analog elements in a rank of symbols, belong to the category of experimental video art. By expressing the emotional states of a human – the vessel, they create audiovisual show, which in connection with music enhances the inner feelings of the spectator.
vimeo: https://vimeo.com/vjemiko