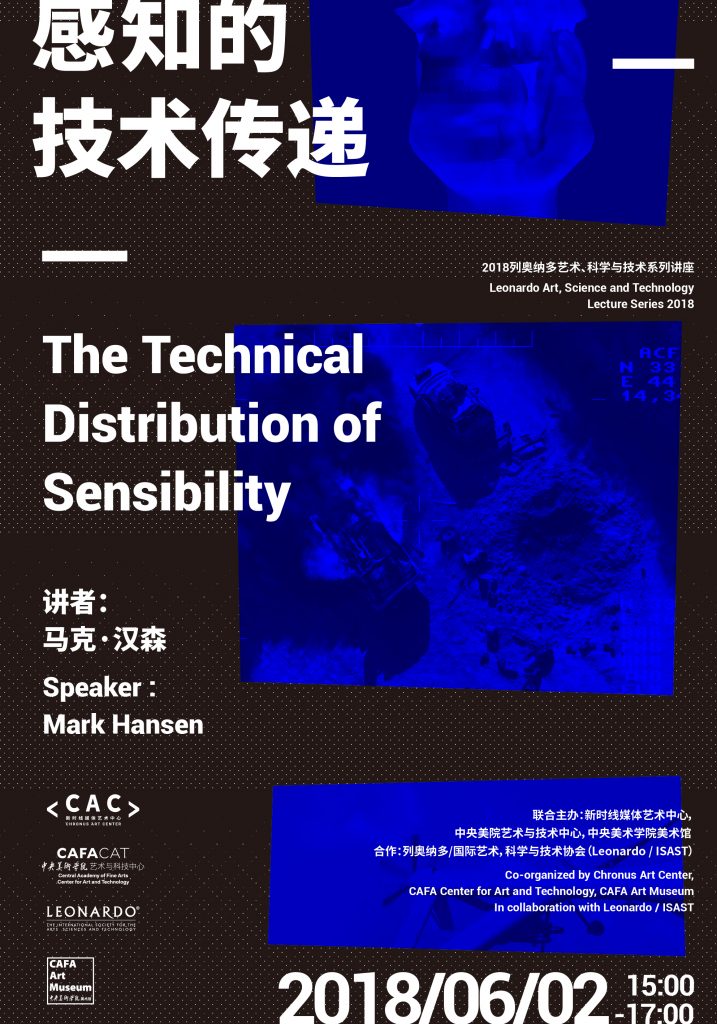 Leonardo Art, Science and Technology Lecture Series
The Technical Distribution of Sensibility
Speaker:
Mark B.N. Hansen
Date:
02.06.2018 Saturday
Time:
15:00 – 17:00
Language:
English (with Chinese interpreting)
Venue:
Chronus Art Center (No.18, No.50 Mo Gan Shan Rd, Shanghai)
Co-organized by Chronus Art Center, CAFA Center for Art and Technology, CAFA Art Museum
In collaboration with Leonardo / ISAST
*Free Admission
To book ticket, please click here.
About the Lecture
This lecture will explore the possibility of an aesthetics that is shared between humans and machines. We will mobilize French philosopher Gilbert Simondon's conception of information as receptivity without a pregiven receiver to explore the operation of environmental individuation and the double role that technical media plays in it – both as an intensifier of the sensitivity of humans to the environment and as a surrogate "presentifier" of the causal lineages informing both human and environmental individuations. By thinking with some selected artworks, we will explore how humans share the world of sensibility with machines, and what this means for the role of aesthetics in experience.
About the Speaker
Mark B.N. Hansen is the James B. Duke Professor in the Program in Literature and in the Department of Art, Art History and Visual Studies, as well as co-founder of the Program in Computational Media Arts & Cultures, at Duke University.  His research, writing, and teaching focus on the role played by technology in human agency, environmental process, and social life, and in the philosophy of human-machine individuation. In work that ranges across a host of disciplines, including literary studies, film and media studies, process philosophy, phenomenology, science studies, cognitive neuroscience, artificial intelligence, and environmental studies, Hansen has explored the meaning of the relentless technological exteriorization that characterizes the human as a form of life. Hansen is the author of Bodies in Code: Interfaces with New Media, New Philosophy for New Media, and Embodying Technesis: Technology Beyond Writing.  His most recent book, Feed-Forward: On the Future of Twenty-First-Century Media (Chicago 2015) explores the role of computational processes in contemporary culture and their diffuse, nonperceptual impact on human experience. Current projects include Designing Consciousness, Logics of Futurity, and  Topology of Sensibility: Towards a Speculative Phenomenology.