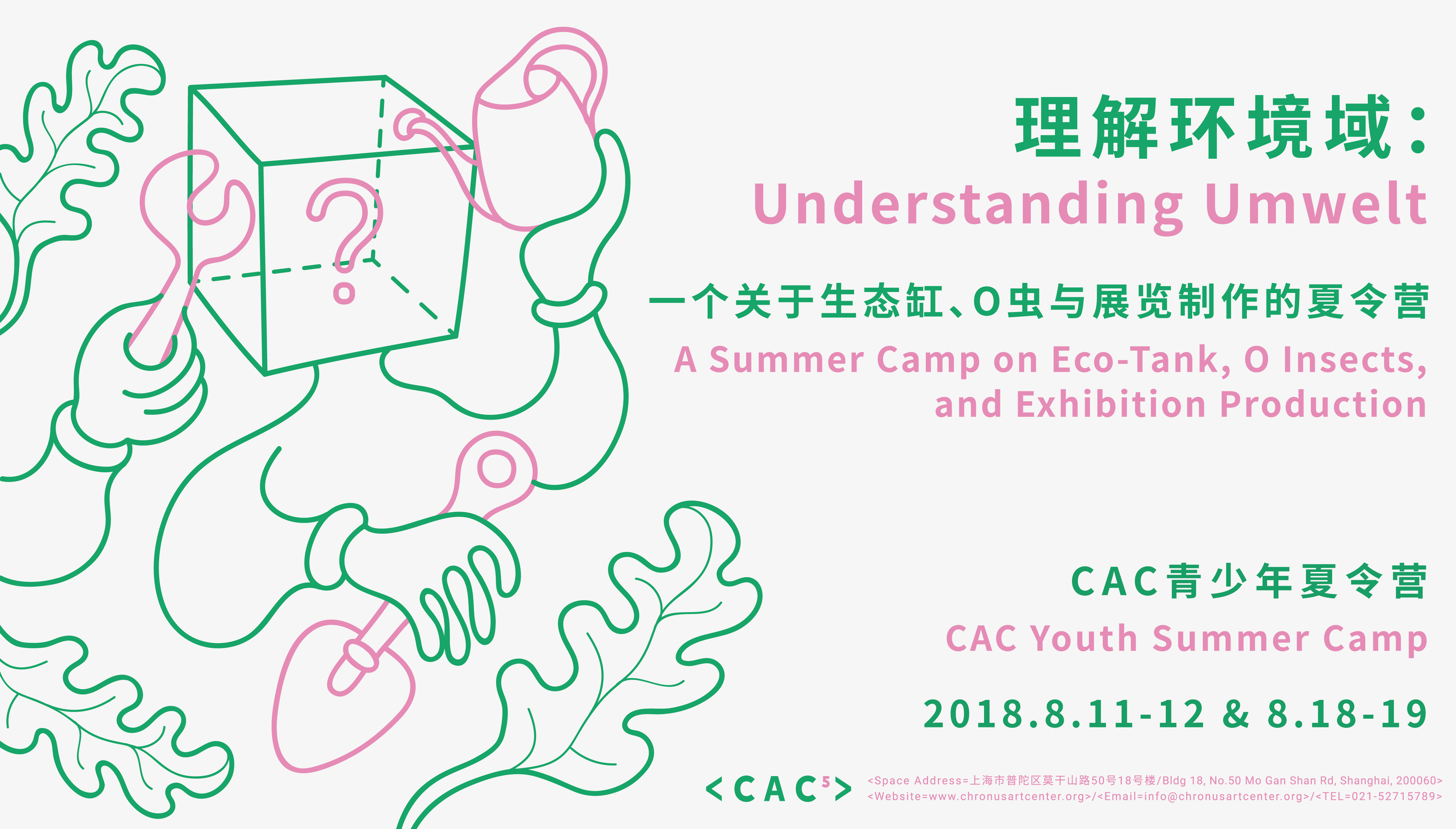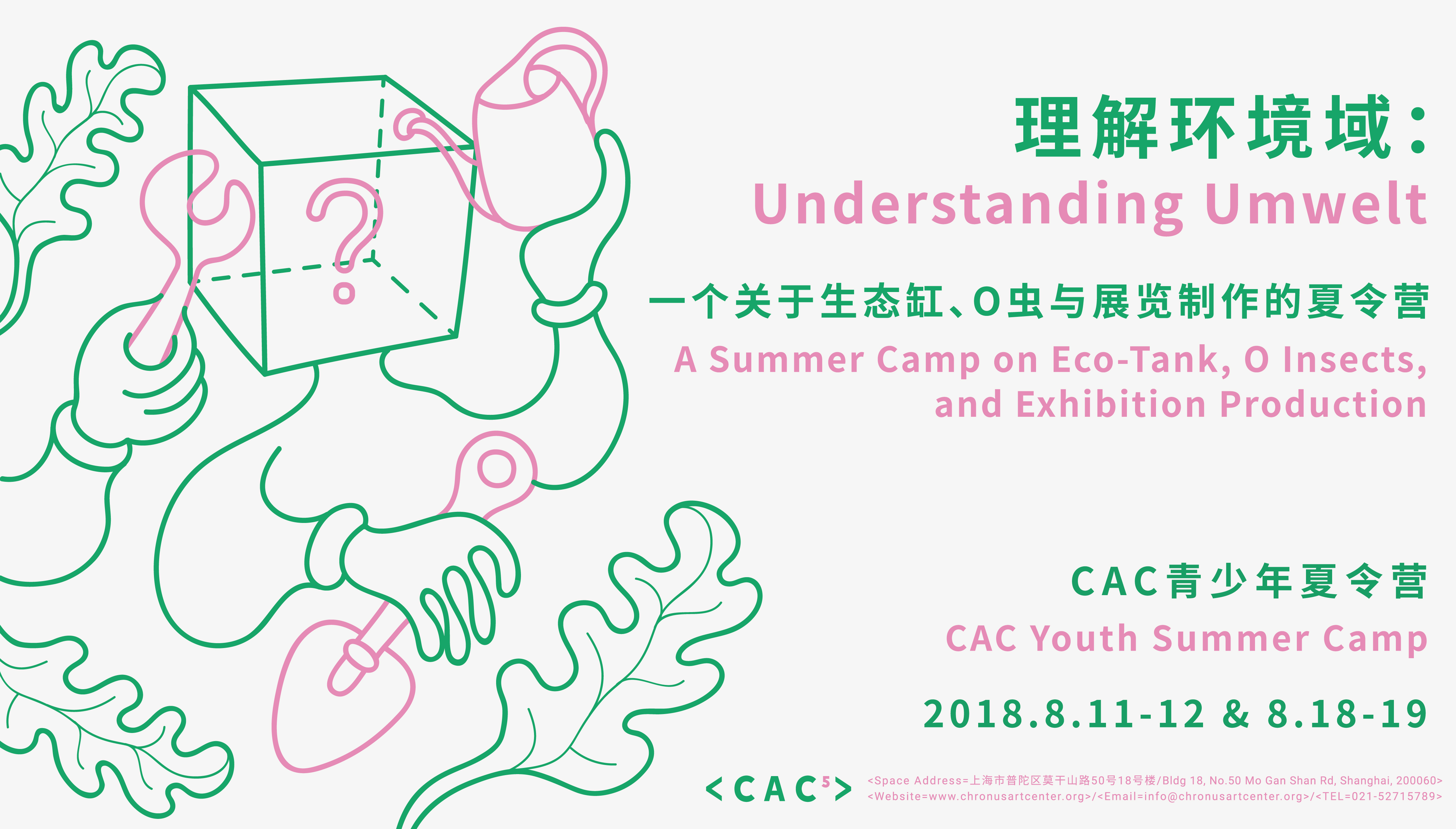 Event Time
August 16-19, 2018 (4 days total)
Attendees
Youth from 10 to 16 years-old
Number of Attendees
18 tweens
Tweens between 10-13 years old are recommended to participate with a guardian (no extra cost)
Addmission Fee
4000RMB/team
including all the workshop classes, materials, lunch
Language
Chinese
Entry Info
Registered families will receive an email or text confirmation and a CAC Welcome Pack. CAC will inform the registered families of what to bring on the first day of the workshop.
Please click here to book ticket.
""For the first time, the natural world was completely enclosed in a human-created container. […] Ecological thinking became inevitable as soon as the planet moved up into the status of a work of art.""
—— Marshall McLuhan
 About the Event 
In August, Chronus Art Center (CAC) will launch a youth summer camp entitled "Understanding Environmental Ecology: A Summer Camp on Eco-Tank, O Insects, and Art Exhibit Production". The summer camp takes CAC summer exhibition, Machines are Not Alone, as a starting point and focuses in particular on the creative thinking behind two of the included artworks, Tega Brain's Deep Swamp and DENG Yuejun's O. Participants will investigate and recreate the symbiotic relations between organic and inorganic entities, through close study, observation and practical application, in order to more deeply understand the system of interrelation between the ecological and the technical. From sandstone, flowing water, Scirpus and seagulls, to solar insects, mixing natural sound and electronic elements, the young participants will contemplate and comprehend notions of environmental habitats, transformation of energy, carbon capture, and water absorption, among others.
The summer camp is designed for young people from 10-13 years old and their families. Over four days, the summer camp covers three research areas: studying wetlands knowledge and ecological functions, natural and electronic sound mixing, and fundamental techniques of creating art exhibits. During these four days of comprehensive study, creation, and group cooperation, participants will create their own exhibit, which CAC will present in a special opening.
Program Schedule
Day1 August 16, 2018 Thursday
Wetlands Investigation 10:00 - 17:00
Wetlands Knowledge I: Understanding Wetlands
Wetlands Knowledge II: Plants--Our Wetland Friends
Wetland Sample Creation
Wetlands Knowledge III: Animals—Our Wetland Friends
Game: Radish Chain Squat
Discussion: Thinking like a Nonhuman
Computer Chip Practice
Exhibition/Artwork Guided Tour
Day2 August 12, 2018 Friday
Creating Your Own Mini-Wetland 10:00 – 17:00
Wetlands Knowledge IV: Wetlands' Ecological Functions
Entering Deep Swamp
Eco-Tank Production
Exhibition Production I: Space, Tools, Equipment
Exhibition Production II: Text, Image, and Telling a Story
Day3 August 19, 2018 Saturday
Environmental Habitats & ALCHEMY 10:00 – 17:00
Wetlands Knowledge V: Environmental Habitat
Exhibition Production III: Sending Out an Invitation
ALCHEMY - Technical Practice I: Microchip Sound Collection Work and Exchange
ALCHEMY - Technical Practice II: Releasing the Energy of Objects
ALCHEMY - Technical Experimentation: An O Insect that Makes Noise
Day4 August 20, 2018 Sunday
This is Our Opening! 10:00 – 16:00
Opening Ceremony and Voting for Most Creative Project, Best Production, and Most Popular Project Awards.
* If you have any question or would like more information, please email us at info@chronusartcenter.org or call +21 5271 5789.
About TutorsDENG Yuejun is a new media artist based in Hangzhou, born in 1986. He is the participating artist of CAC 2018 summer group exhibition Machines Are Not Alone: A Machinic Trilogy. He holds a bachelor degree from the New Media Department at the China Academy of Art, and master degree from School of Intermedia Art at the China Academy of Art. From 2011 to 2012, he participated in the art and media program at Zürich University of the Arts. His works are collected by art institutions and private collectors. He follows three research directions: energy transference, dimensional space, and mechanical movement. He currently works with the media including mechanical installation, Chinese ink painting animation and sound installation. DENG's work has shown in various art institutions in China, including China Academy of Art, Shanghai Minsheng Art Museum, Chronus Art Center, A4 Contemporary Arts Center, Beijing Times Art Museum, Museum of Contemporary Art Shanghai.

Wang Han, Master of Environmental Engineering, graduated from Tongji University, and studied Sustainable Development in Paris Dauphine University. Currently, she is working in AECOM as a water and urban development engineer, responsible for engineering design and consulting services for water resource and water ecology related projects, covering artificial wetlands, water pollution treatment and water ecology rehabilitation, sponge city design, resilience city strategy consulting, etc. She has supported the technical assistance consulting services for many projects financed or granted by international financial institutions and international organizations. Before joining AECOM, she has 7 years' research experience in water pollution treatment, carbon sequestration and wetland carbon source/sink monitoring.

ZHU Sha, master of Ecology, graduated from East China Normal University, currently working as an eco-environment planner in Shenzhen Tech and Ecology & Environment Co. Ltd., East China Planning and Design Institute. During 7 years of professional research, she had participated in many ecological research and investigation activities such as grassland and forest ecological study and aquatic plant survey. she has two years' work experience in forest and aquatic ecological environment recovery, habitat restoration and many water ecology related projects.

BI Xin, Head of Curatorial and Public Programs at Chronus Art Center.