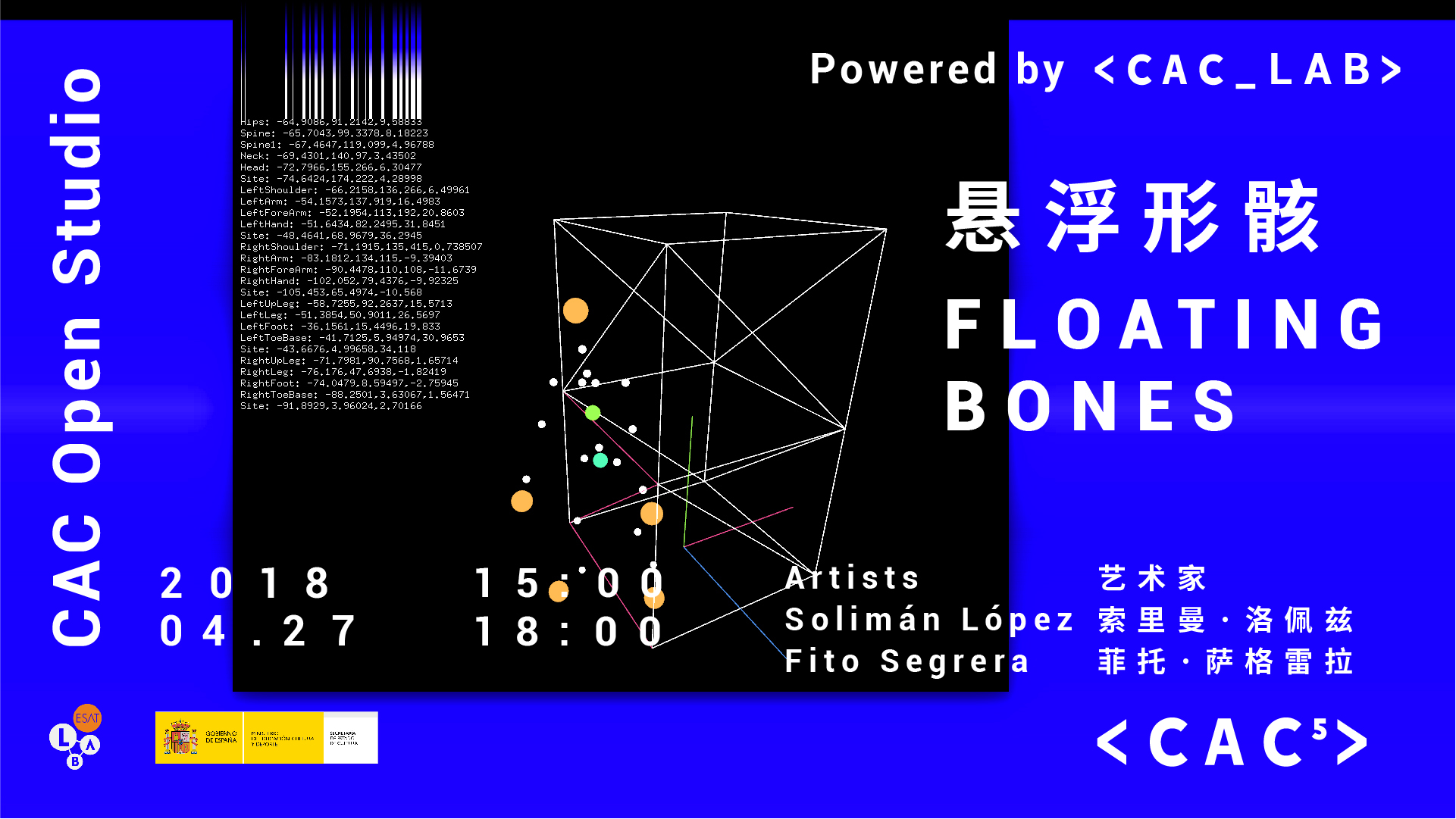 Artists:
Solimán López (Artist in residence)
Fito Segrera
Languange:
English
Date:
2018.4.27
Time: 
15:00 - 18:00
Location:
Chronus Art Cente (Building 18, No.50 Moganshan Rd)

Book Ticket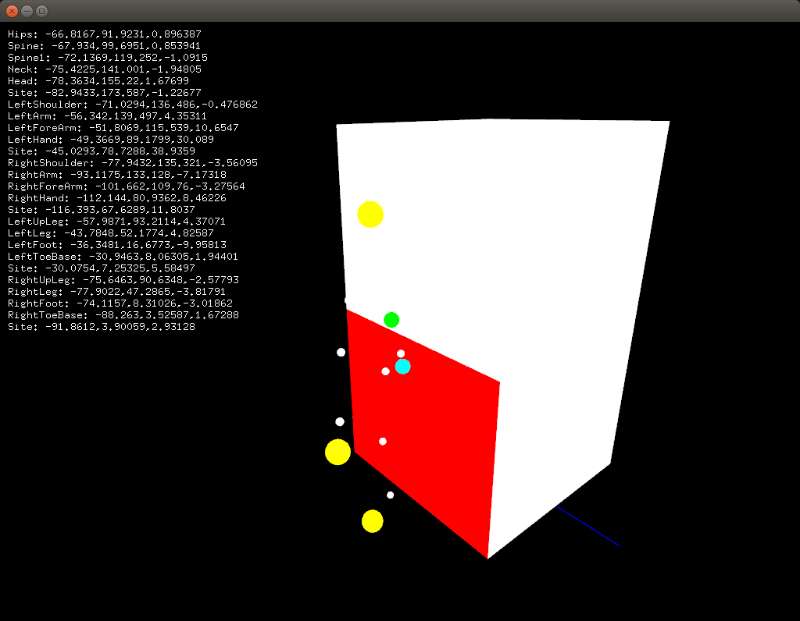 Floating Bones gives name to a group of investigations related with the aesthetic meaning of data obtained from body. Continued from the previous artwork Langpath -- a sculpture in movement translates motion capture data files in BVH (The BioVision Hierachy) format between 4 servers distributed in the North and South Hemisphere, Solimán López collaborates with Fito Segrera during his short-term residency at Chronus Art Center, developing on the project "Floating Bones" with the new recordings of data and its transcription in digital art.
On April 27th, López and Segrera will open the studio to visitors and display the periodic result of their experiments on the collected data with a mix of technologies including the already existing resources at CAC such as laser cutting, video projection, Optitrack and the new equipment Skeleton Motion Tracking system.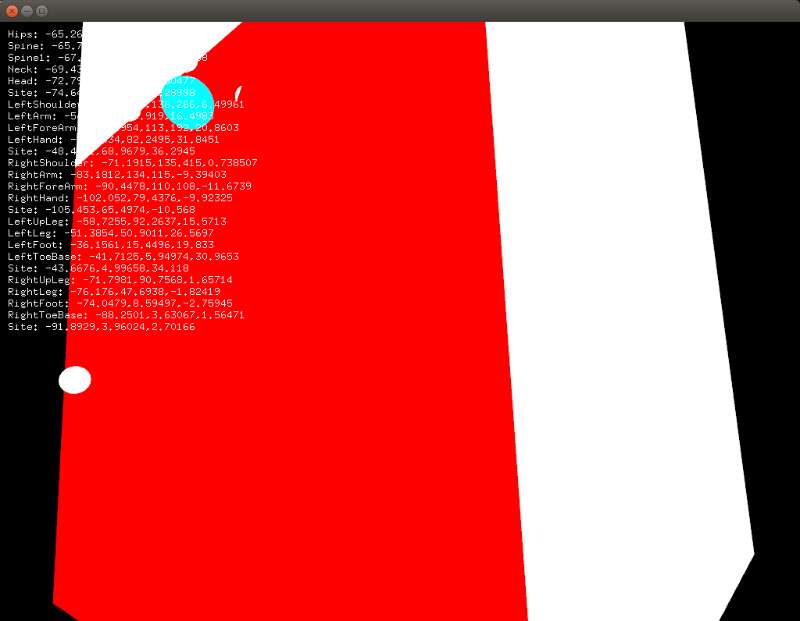 关于艺术家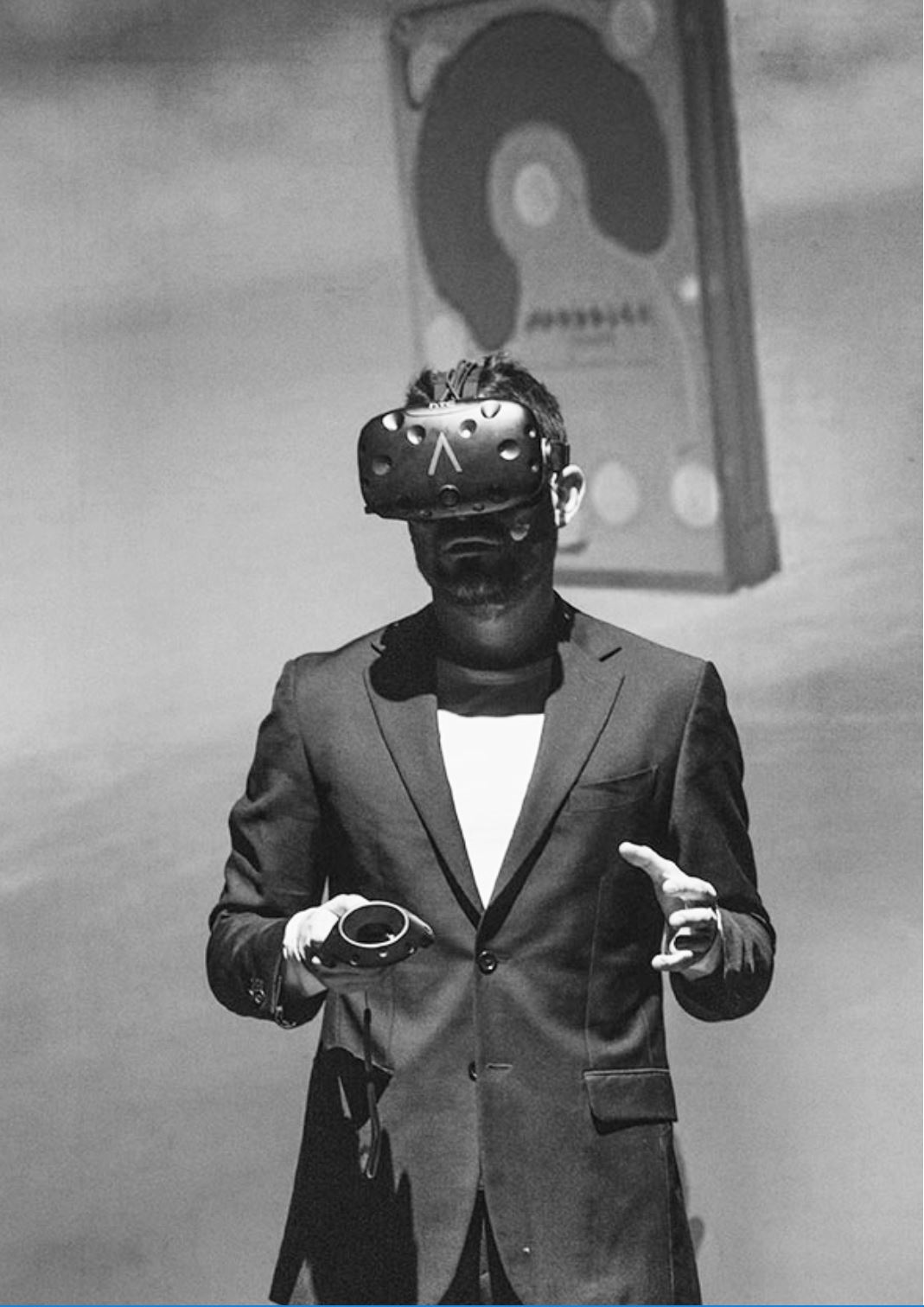 Solimán López (Burgos, 1981 – Spain) BA in Art History and Art and Communication Master, is media artist, researcher, Harddiskmuseum founder and director of the I+D+i Department in ESAT (Escuela Superior de Arte y Tecnología de Valencia). He develops his work and investigation applying and analyzing technology from a conceptual and technical point of view, creating digital art, performances, interactive and multimedia works, investigating the social changes made possible by the technological revolution and the new language proposed by the digital debate. He is well known for the works related with the meaning of digital files.
His work has been shown in Cuba (Festival de Camagüey), Timoteo Navarro (Tucumán,Agentina), Sweden (SwitzerlandArtSpace), Etopia: Center for Art and Technology (Zaragoza),or art fairs such as ARCO, JustMad,ArtMadrid in Spain, among others. He has been selected in awards, shows, festivals, biennials and scholarships such as Technarte Bilbao, ADA (Archive of Digital Art), Laguna Award (Valladolid), Tedx Valladolid,  Madatac Madrid,  Variation Media Art Fair (Paris), Open Codes, ZKM (Karlsruhe, Alemania) or FAD Bienal de Arte Digital(Río de Janeiro). López has given talks in conferences and organized workshops in TEDx Valladolid, la Fundación Bancaja, CAAC Cuenca, Etopia: Center for Art and Technology (Zaragoza), Universidad de Cuenca (Cuenca) , Universidad Carlos III (Madrid), Campus Google Madrid, Brasil, among others.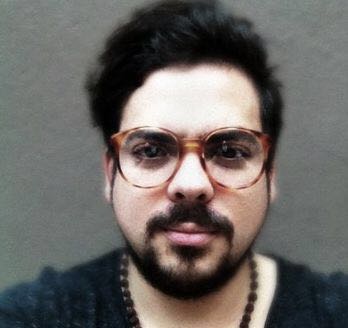 fito_segrera is an artist, technologist and Head of Research/Creation at Chronus Art Center, Shanghai. He studied fine arts and audiovisual / Multimedia production at Jorge Tadeo Lozano University of Bogot谩, Colombia and completed a MFA in Design and Technology with honors at Parsons, The New School, New York, while being a Fulbright Scholar from 2013 until 2015. His current research and creative practice appropriates elements from digital philosophy, artificial intelligence, monism and modern physics while using physical computing, software programming and information/telecommunication technologies to inquiry in fundamental ontological questions regarding the nature of reality and the physicality of the universe. Some of his most recent shows include "I am here to lear: On Machinic Interpretations of the World", Frankfurter Kunstverein, Frankfurt, Germany, 2018, "UNREAL: The Algorithmic Present", House of Electronic Arts (HEK), Basel, Switzerland, 2017 & Chronus Art Center, Shanghai, 2017, "VARIATIONS" Paris, France, 2016, "PLUNC Festival" Lisbon, Portugal, 2016, "Migrating Fronteers", Chronus Art Center, Shanghai, China, 2016/2015, "Shanghai Art and Design Fair", West Bund Art Center, Shanghai, China, 2016, "SIGGRAPH", Vancouver, Canada, 2014, "Collision 20 & 21", Boston Ciberarts Gallery, Boston, U.S.A, 2014, "Huston International Performance Biennale", Huston, U.S.A, 2014, "SXSW", Austin, U.S.A, 2014, "Emoji", EYEBEAM, New York, U.S.A, 2013, "Dorkbot", New York, U.S.A, 2013, Harvestworks, New York, 2013.