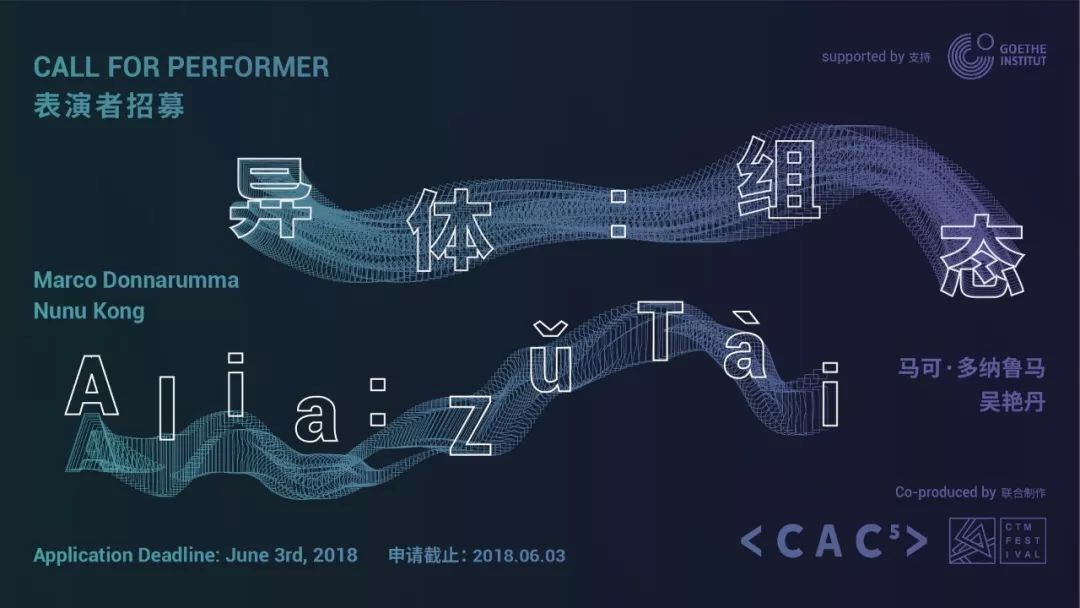 Project: ALIA: ZǓ TÀI, a co-commission by CAC and CTM and co-funded by Goethe-Institut's International Co-Production Fund.
Artists: Marco Donnarumma (DE), Nunu Kong (CN)
Keywords: experimental dance/theater, interactive sound, robotic prosthesis, physicality, hybridity
Call type: Performer (salary-based)
Application Deadline: June 3rd, 2018
<WHAT WE LOOK FOR>
We are looking for one performer to join Donnarumma and Kong, so as to form a team of 3 performers. Dancers and performers working in the field of experimental dance, experimental theater, improvisation, butoh, as well as physical theater are all welcome to apply. We are searching for someone who is accustomed to push the limits of the body, both physically and conceptually; someone who is accustomed to hybrid forms of performing art and who is interested in developing an in depth understanding of technology through corporeal experimentation. Given the concept at the core of the project, we are looking for a performer with a particular body presence. We are therefore interested in performers with any body size, shape, color or gender identification.
Selected applicant will be expected to join rehearsals, premieres and tour(see production details below). Salary includes fee for rehearsals and performances. Costs of travel, accommodation and per diem in Berlin will also be provided.
<PRODUCTION DETAILS>
Duration: 
The production will begin in June 2018 and end in December 2018.
Where & When: 
First production phase between June and July in Shanghai. The performer selected through this open call will join rehearsal by June 18th.
Second production phase between October and November in Berlin (flight to Berlin, accommodation and per diem in Berlin will be covered by our co-production fund).
Premieres: 
The piece will be premiered in Berlin in the end of November, and in Shanghai in the beginning of December, venues are being confirmed.
Tour: 
The piece will tour throughout 2019 in Asia and Europe. Dates and venues will be announced.
<ABOUT THE PROJECT>
Taking its title from the Latin "alia" - the other – and the Chinese "zǔ tài" - configuration, "Alia: Zǔ tài" will be an experimental dance/theater and interactive music performance.
Three dancers wear three artificially intelligent robots on their bodies. The robots are like prostheses, but behave according to their own agencies. The dancers and the machines thus engage in a re-discovery of the self and the other, transporting the audience in a sensual, stirring and poetic choreography of movement, sound and light.
Produced in Germany and China, the piece will explore new identities emerging from the increasing use of artificial intelligence and robotics in both countries. How do those technologies influence the way we understand, categorise and discriminate human bodies across cultures? What differs in German and Chinese culture? What kind of body is "normal", why and where?
<ARTISTS BIOGRAPHIES>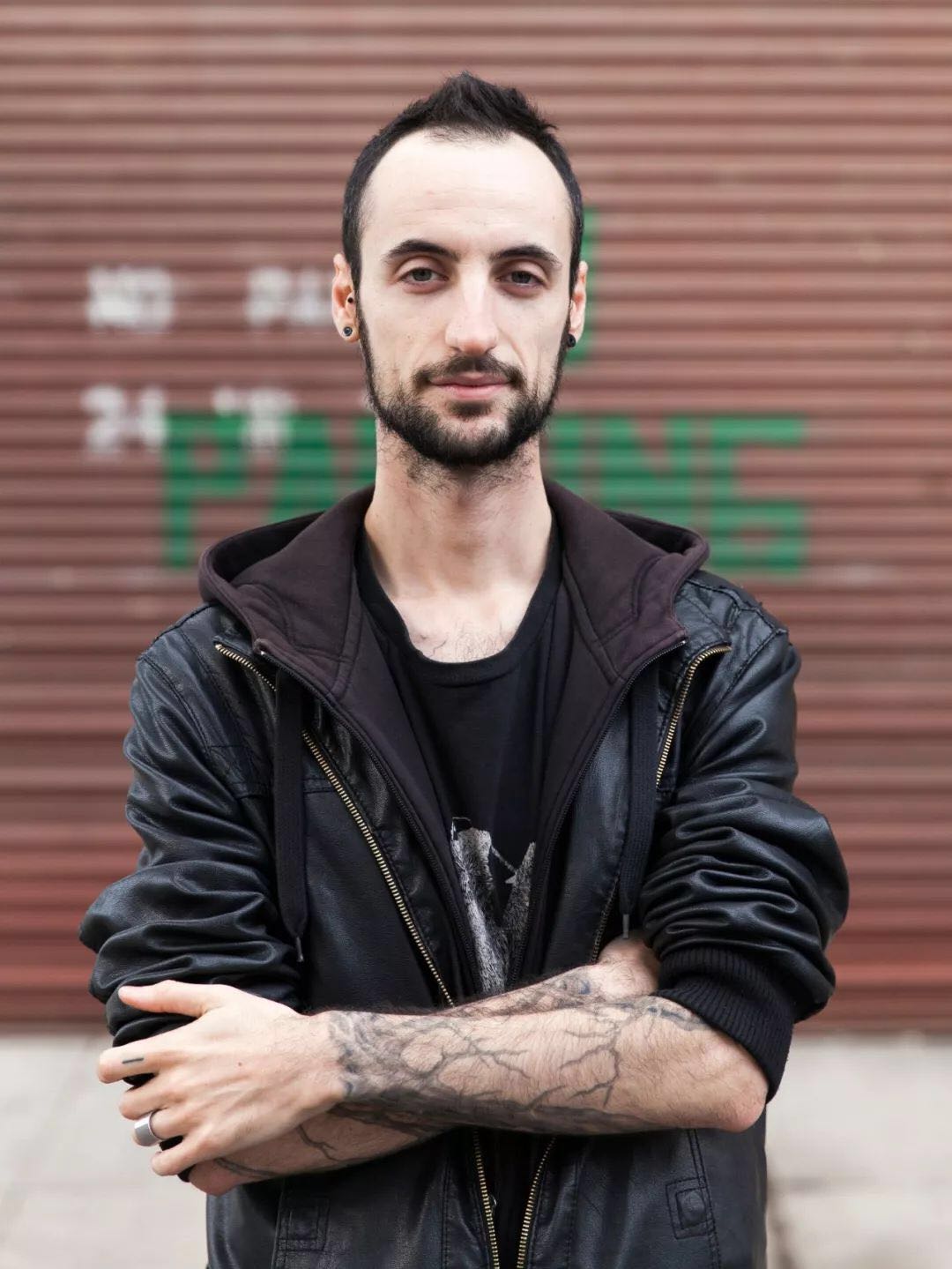 Marco Donnarumma's performance work inhabits an uncommon aesthetic space between contemporary performance and media art. He distinguishes himself by his use of emerging technology to deliver performances that are at once intimate and powerful, oneiric and uncompromising, sensual and confrontational. He is renown for the unsettling intensity of his shows, as well as for his physical use of sound. Writing regularly on body, music, technology and performance studies, he is published by MIT Press, Oxford University Press, Routledge and Springer. Donnarumma began his career in 2004, and since then his performances toured over 60 countries worldwide collecting several prizes across the years, most notably Prix Ars Electronica Award of Distinction in Sound Art (AT, 2017), 1st prize Cynetart Award for Computer Based Art (DE, 2014) and Guthman New Musical Instrument Competition (US, 2012). Donnarumma is currently Research Fellow at the Berlin University of the Arts (DE) in partnership with the Neurorobotics Research Laboratory at Beuth Hochschule.
http://marcodonnarumma.com
Nunu Kong began her choreographic career in Shanghai in 2005. She has the established her own independent dance project "BrandNuDance", which has become one of China's most innovative experimental performing arts exchange platforms. Promoting experimental dance as a new and vital medium in contemporary art, she has produced numerous international dance productions, commissions, workshops, lectures and presents Chinese independent performing artist's work beyond the underground. Through her work, Kong develops a characteristic form of expression, playing with time and space in poetic and illusionary dimensions at both visual and dramaturgy levels, with a particular sense of humor instinctively blended into her choreography. She is the recipient of several international awards, including  Dutch Doen Foundation "Young Choreographer Project" (NL, 2007),  Theatrical Talent Shanghai Cultural Development Foundation (CN, 2008), two Gluck Art Foundation Grants (2011 and 2012, US) and the Asian Cultural Council Fellowship (2015-2016).
http://nunu.we23.org
<APPLICATION GUIDELINES>
ELIGIBILITY
-    Only applicants living and working in Shanghai can apply
-    Applicants should be able to use English as working language
HOW TO APPLY
Please download ⇒the application form and submit it with necessary attachments via email to: nikitalin@chronusartcenter.org.
Please use "Your Name + Apply for Performer_ALIA" as your E-mail subject line.
All applications must be received electronically by 23:59 (Beijing Time), Sunday, June 3rd, 2018.
Applicants will be informed about their application status by June 13th, 2018. Selected applicants will be invited to an audition in Shanghai with Donnarumma, Kong and our producers (dates to be confirmed).
Please send further inquires to nikitalin@chronusartcenter.org with "Inquiry + Apply for Performer_ALIA" as your Email subject line.