Artist Talk | Empty Frames
Film Program | Staging Mimicry
Guest Artists: Marlies Pöschl, Katharina Swoboda (Golden Pixel Cooperative)
Time:07.12.2017  19:00-21:00
Language: English (with Chinese interpreting)
Venue: EXTRA TIME (No. 888 Changde Road, Jing'an District, Shanghai)
Organizer: Chronus Art Center
Co-organized by Golden Pixel Cooperative
Supported by the Austrian Consulate-General Shanghai
Free admission. To reserve a seat, please click here.
This event consists of a lecture by the artist Katharina Swoboda and a film program co-curated by Marlies Pöschl and Katharina Swoboda, part of Golden Pixel Cooperative, a nomadic platform, situated on the intersection between art and moving image.
Empty Frames
Lecture by Katharina Swoboda
The zoological garden and the cinema are both invention of modernity, which work with "living images". The talk focuses on architecture in zoos and its representation in film. Architecture in the zoological garden, in my opinion, structure the view on animals and therefore establish cultural ideas about them. Comparable to cinematic procedures like shot sizes and montage, which are used to construct an image and therefore a significant view about the animal, the architecture in zoological garden directs the gaze of the visitors and therefore creates certain ideas of species. Artworks to be discussed include contemporary video artist Anri Sala's work about an empty zoo in his home town Tirana, and Laszlo Moholy-Nagy ́s film about the modern architecture from the "Tecton Group" from 1934.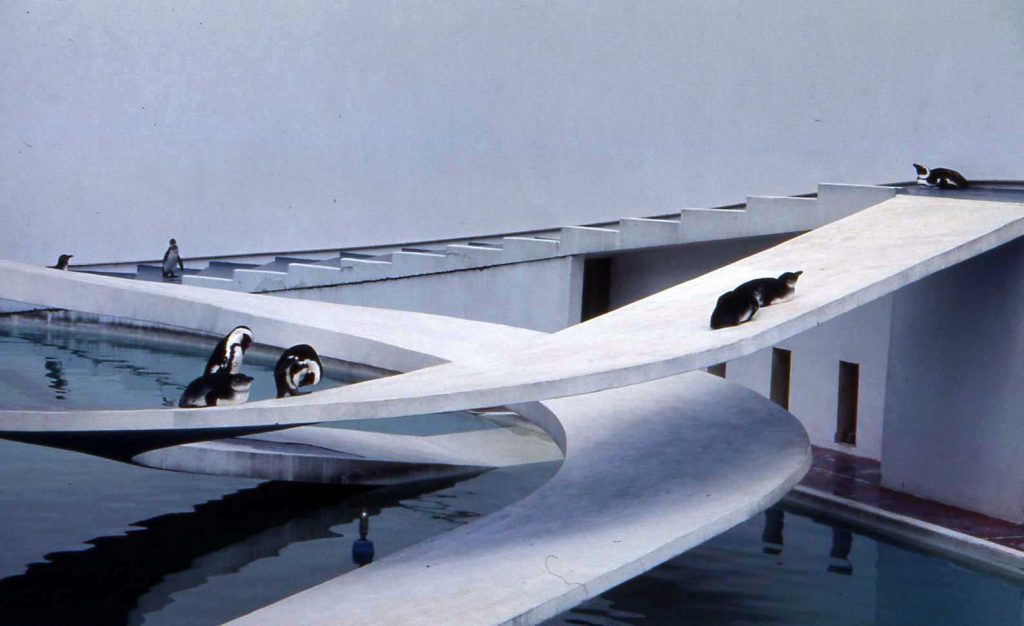 Penguin Pool, London Zoo © Joy Sleeman
Staging Mimicry
Film program + Q&A with Marlies Pöschl (Golden Pixel Cooperative)
Contrary to popular believe, Roger Caillois (1931-78) shows in his work on mimicry, that an insect's ability to camouflage itself does not have any survival value. Moreover, it is "excessive" to survival; it is a surplus of life. Through mimicking itself, the insect also creates a second identity of itself.  "The mimicking insect lives its camouflaged existence as not quite itself, [but] as another," writes cultural theorist Eliszabeth Grosz, "the capacity to imitate one's habitat or surroundings, far from performing an adaptive function, witnesses the captivation of a creature by its representations of and as space, its displacement from the center, from a 'consciousness' of its place (in its body, located in space) to the perspective of another." Following Caillois, there is a rupture in the identity of the subjectivity of the insect - the mimicking insect feels as if what is happening inside its body actually comes from outside.
Extending the term mimicry to the field of architecture and art, in this program we will explore the artistic surplus of mimicry. Which aesthetic realms do artists create through strategies of mimicry, camouflage and mimesis?
List of artworks included in the program:
#1
Bernd Oppl: Sick Building
2013, 7min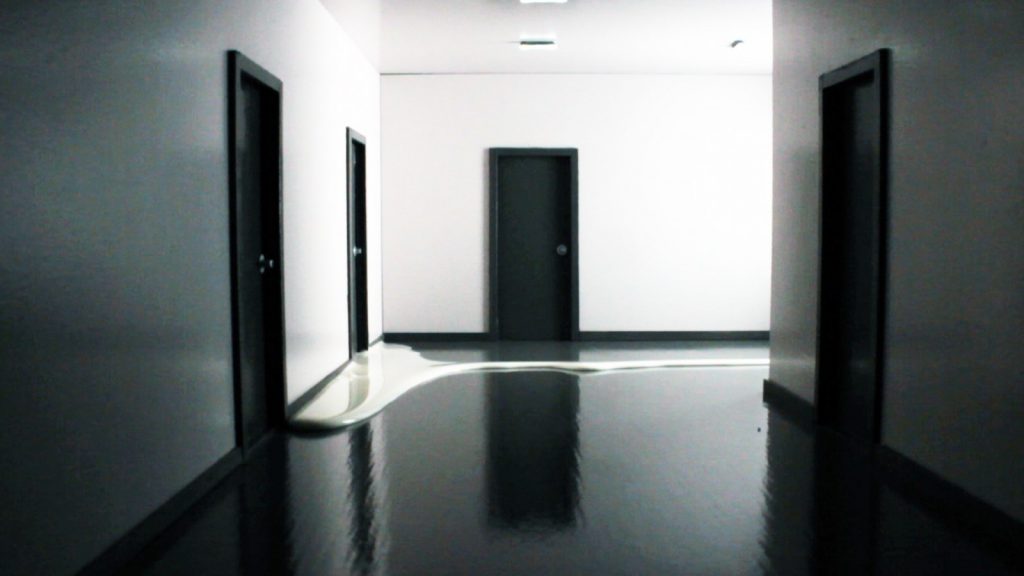 #2
Lukas Marxt/Marcel Odenbach: Fishing is not done on Tuesdays
2017, 15min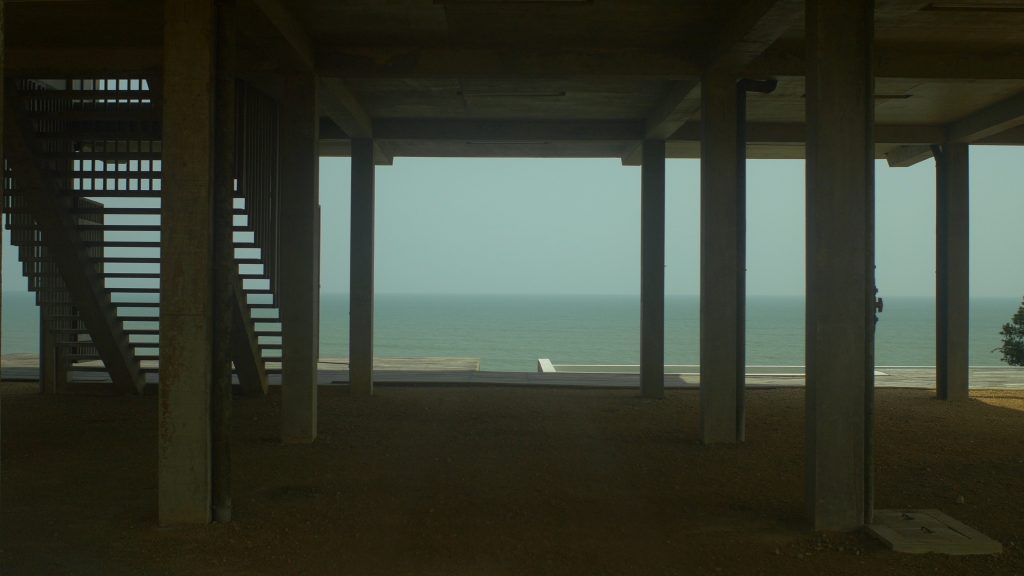 #3
Sena Basöz: Be the Doctor, Practise Nursing
2016, 7Min
#4
Marlies Pöschl: Untitled (Lost Horizon)
2014, 7min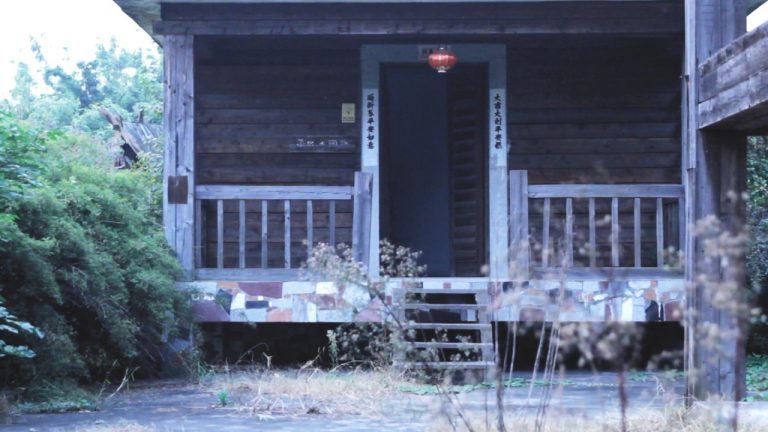 #5
Bernhard Staudinger: Sichuan
2014, 9min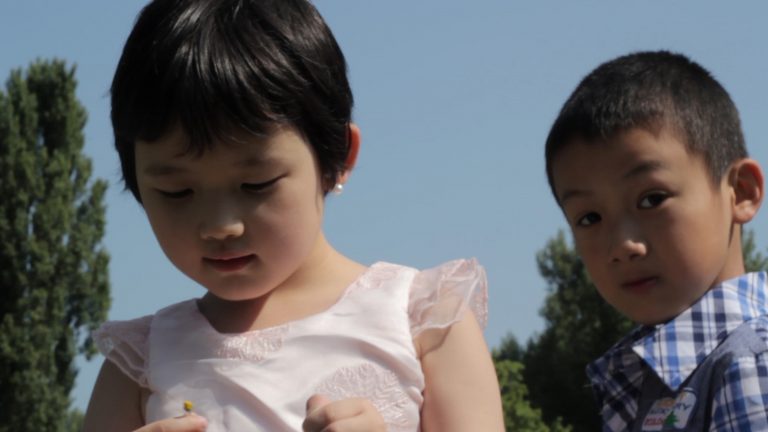 #6
Katharina Swoboda: Reconstructing Z
2014, 2min
#7
Dorit Margreiter: Broken Sequence
2013, 8min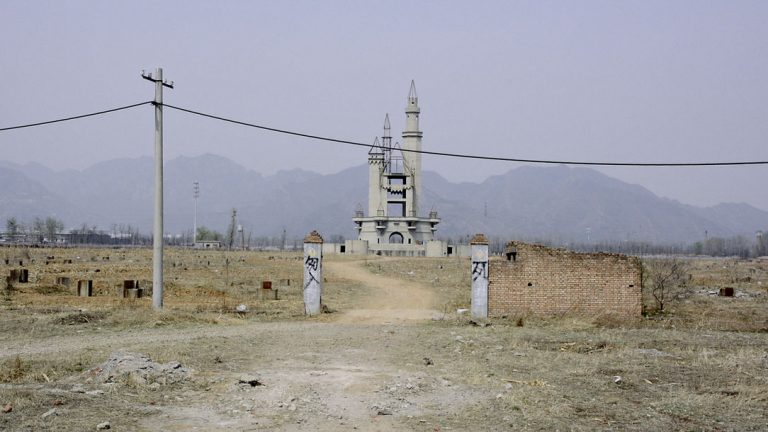 #8
Katharina Swoboda: Penguin Pool
2015, 3:20min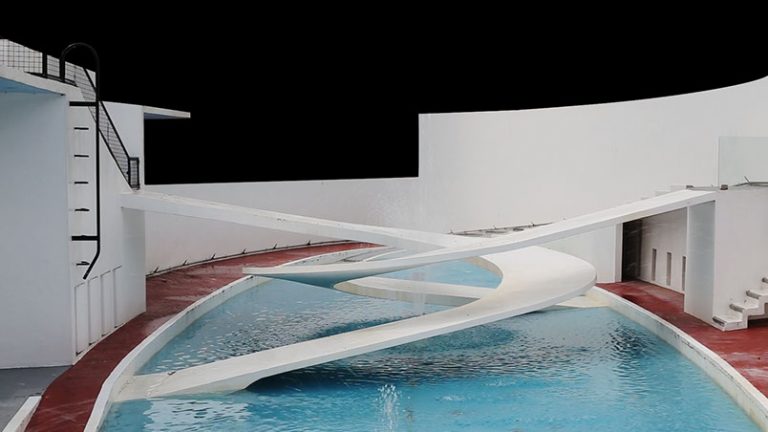 #9
Simona Obholzer: -5°C 40%rF
2016, 7min
About the Guest Artists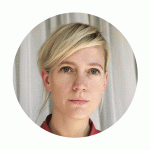 Marlies Pöschl, born in 1982 in Salzburg, is a filmmaker and visual artist, currently based in Vienna. She completed her studies in Fine Arts (Academy of Fine Arts Vienna, media department) as well as in Art and Communication and German Philology in Vienna and Utrecht, NL. She participated in numerous international festivals and exhibitions. In 2013 she founded Golden Pixel Cooperative, a Vienna based platform for moving image.
www.marliespoeschl.net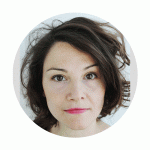 Katharina Swoboda, born 1984 in Graz, Austria. Diploma Academy of Fine Arts Vienna and University of Applied Arts of Vienna. Recent exhibitions include: 2017 Media Art Biennale Wro, Wroclaw, PL; 2017 The Frame that blinds us, APA Gallery Budapest, HU; 2017 BJCEM Young Artist Biennale. Tirana, AL; 2017 (Im)Personal, Manhatten Bridge, NYC; 2017 Black Quarry, Corner College Zürich, CH; 2017 Motel Trogir, Vladimir Nazor Gallery, Zagreb, HR.
katharinaswoboda.net
About Golden Pixel Cooperative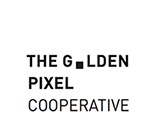 Golden Pixel Cooperative is a nomadic platformoriginating from Vienna. Situated on the intersection between art and movingimage, its focus lies on the research of documentary configurations. Thecooperative develops formats and visions for presentation, debate, education,research and publication. Its activities aim at fostering exchange and mutualsupport between young artists, encouraging encounters between different publicspheres as well as the developing sustainable structures of distribution andmediation.
*Special thanks to EXTRA TIME for providing venue support for this event. Optional snack set available during the event (more info on the reservation page).