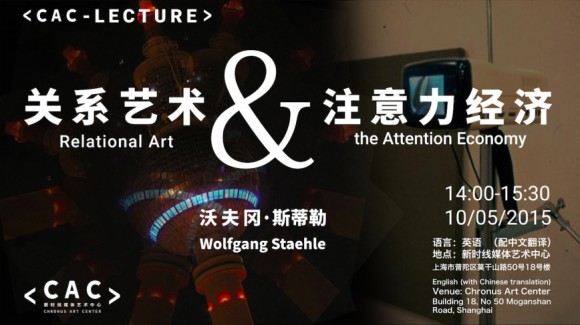 Guest: Wolfgang Staehle
Date: 2015-05-10  14:00 ~ 2015-05-10  15:30
Address: Chronus Art Center (Bldg 18, No.50 Moganshan Rd., Shanghai)
Language: English (with Chinese translation)
Relational Art and the Attention Economy
About the Lecture
The lecture will focus on the development of Staehle's art practice, which is informed by the thinking of relational art andthe attention economy. It covers from "the thing", an early artist-runsocial network, to his works developed in the 90s.
Deeply influenced by a phenomenological approach ofbeing in the world, the thinking that informs Staehle's works is in the directopposition to the dominant western thinking which is grounded in asubject-object dualism and generally sees the subject as a separate entity fromits surrounding nature. In his mind, there is a positive correlation betweenthe attention you give to an object and its self-reveals, and it does so onlyin relation with the subject.
About the Speaker
Wolfgang Staehle was born in Stuttgart, Germany in 1950. He attended the Freie Kunstschule, in Stuttgart, and in 1976 he moved to New York to attend the School of Visual Arts, New York (BFA) where he studied with Joseph Kosuth (Conceptual Art), Marshall Blonsky (Semiotics), Robert Mangold (Painting), Jackie Winsor (Sculpture), Richard Van Buren (Sculpture), Storm De Hirsch (Experimental Film), Todd Watts (Photography), Ed Bowes (Video), Anina Nosei (Art History), and Jeanne Siegel (Art History).
After a successful career in various New York and European galleries in the 1980s, Staehle decided to work collectively, and in1991 he founded The Thing, an innovative online forum for artists and culturalworkers. The Thing began as a Bulletin Board System (BBS), a form of online communitydialogue used before the advent of the World Wide Web. By the late 90s, TheThing grew into a diverse online community made up of dozens of members' Websites, mailing lists, a successful Web hosting service, a community studio in Chelsea, and the first Web site devoted to Net Art, bbs.thing.net.
In 1996, Staehle began to produce an ongoing seriesof live online video streams. The first of these works wasEmpire 24/7, acontinuous recording of the top one-third of the Empire State Building that isbroadcast live over the Internet. Staehle has followed Empire 24/7 with onlinestreams of other buildings, landscapes and cityscapes such as Berlin'sFernsehturm, the Comburg Monastery in Germany, lower Manhattan before and after 9/11, and a Yanomami village in the Brazilian Amazon. He continues to expandthis series while serving as the Executive Director of The Thing.
Wolfgang Staehle is represented by Postmasters Gallery, New York.