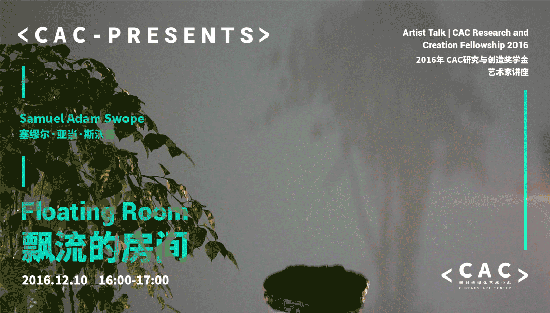 Artist Talk |CAC Research and Creation Fellowship 2016 Fall
Title: Floating Room
Speaker: Samuel Adam Swope
Moderator: Fito Segrera
Language: English (with Chinese interpretation)
Date: 10.12.2016 (Saturday)
Time: 16:00-17:00
Venue: Chronus Art Center
Address: BLDG.18, No. 50 Moganshan Road, Shanghai
*This event is free for public. To reserve a seat, please send  "RSVP+your name + cellphone number" to info@chronusartcenter.org.
On Saturday 10th December 2016, CAC research and creation fellow Samuel Adam Swope will present a talk introducing his newest aerial artwork Floating Room,a composition of hyper-physical objects that, while in their hovering states,manifest the dynamic aerial reactions within a staged space. He will discussthe visual language and creative-technical process behind Floating Room, in conjunction wih his research-creation residency experience at Chronus Art Center.
Floating Room shifts domestic products into feather weight,hovering airborne whimsies. At the core of these sculptural,technological-domestic hybrids are quadcopter technologies. The result will befeatured in a two-week exhibition presented by <CAC_LAB> starting from 17 December 2016, which will be announced soon.
This event will be moderated by Fito Segrera, Research Head, Art and Technology at Chronus Art Center.
<About the Artist>
Born 1984 in Missouri, USA. Based in HongKong.
Samuel Adam Swope is an artist mostrecognized for his Aerial Art and for inventing novel situations with artisticmerit. Samuel feeds off his innate boyish curiosities, imagination, andmischievous behavior. He follows heuristic methodologies and seriously plays.He fancies apparatuses with aesthetics, craft, and technique, but that maintaina core concept related to science and whimsy.
His continued interest in contemporary usesof apparatuses, performance, technology and DIY culture has enabled him toexhibit and lecture internationally in art spaces and academic and culturalinstitutions, for example ISEA 2016 Hong Kong, Este: Coordenadas Itinerantes Colombia, Nightingale Chicago, and FILE 2015 Brazil.
Samuel received a BFA in sculpture from Missouri State University in 2007. In 2014 he earned his MFA from the School ofthe Art Institute of Chicago within the Art and Technology department as their full merit scholar. In 2015 he was a Research Associate at School of Creative Media, City University of Hong Kong.
Website: samueladamswope.com