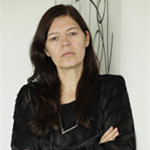 Ute Meta Bauer
Ute Meta Bauer is a curator of exhibitions and presentations on contemporary art, film, video, and sound. Since October 2013, she serves as Founding Director of NTU Centre for Contemporary Art Singapore (NTU CCA Singapore) and a Professor at Nanyang Technological University (NTU).  From 2012–2013, she was the Dean of Fine Art at the Royal College of Art, London, UK. She was Associate Professor at the Massachusetts Institute of Technology (MIT), Cambridge, USA where she served as the Founding Director of ACT, MIT Program in Art, Culture, and Technology (2009–2012) and as the Director of MIT Visual Arts Program (2005–2009). Prior to that, she was the Founding Director of the Office for Contemporary Art Norway (OCA) (2002-2005). For NTU CCA Singapore, she curated Paradise Lost (with Anca Rujoiu) featuring Zarina Bhimji, Trin T. Minh-ha and Fiona Tan; Theatrical Fields – Critical Strategies in Performance, Film and Video (with Anca Rujoiu, commissioned by Bildmuseet Ume?, Sweden), Yang Fudong: Incidental Scripts (with Khim Ong) and Simryn Gill: Hugging the Shore (with Anca Rujoiu). Bauer was Co-Director with Hou Hanru of the World Biennial Forum No1, Gwangju, Korea (2012); Curator of The Future Archive exhibition project, n.b.k. Berlin (2012); Artistic Director of the 3rd Berlin Biennale for Contemporary Art (2004) and Co-Curator of Documenta11 on the team of Okwui Enwezor (2001–2002). In 2015, she will co-curate the US Pavilion at the 56th Venice Biennale with MIT List Visual Art Director, Paul Ha, presenting the works of eminent artist, Joan Jonas. Recent edited publications include World Biennale Forum No1 – Shifting Gravity (with Hou Hanru) (2014), AR – Artistic Research (with Thomas D. Trummer) (2013) and Intellectual Birdhouse: Artistic Practice as Research (with Florian Dombois, Claudia Mareis, Michael Schwab) (2012).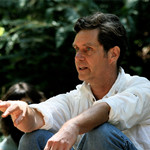 Chris Chafe
Chris Chafe is a composer, improvisor, and cellist, developing much of his music alongside computer-based research. He is Director of Stanford University's Center for Computer Research in Music and Acoustics (CCRMA). At IRCAM (Paris) and The Banff Centre (Alberta), he pursued methods for digital synthesis, music performance and real-time internet collaboration. CCRMA's SoundWIRE project involves live concertizing with musicians the world over. Online collaboration software including jacktrip and research into latency factors continue to evolve. An active performer either on the net or physically present, his music reaches audiences in dozens of countries and sometimes at novel venues. A simultaneous five-country concert was hosted at the United Nations in 2009. Chafe's works are available from Centaur Records and various online media. Gallery and museum music installations are into their second decade with "musifications" resulting from collaborations with artists, scientists and MD's. Recent work includes the Brain Stethoscope project, PolarTide for the 2013 Venice Biennale, Tomato Quintet for the translife: International Triennial of New Media Art 2011 at the National Art Musuem of China and Sun Shot played by the horns of large ships in the port of St. Johns, Newfoundland.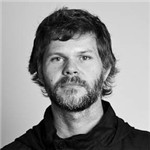 Casey Reas
Reas' software, prints, and installations have been featured in numerous solo and group exhibitions at museums and galleries in the United States, Europe, and Asia. He is a professor at UCLA's Department of Design Media Arts and he co-founded Processing, an open-source platform for programming within the context of the visual arts, with Ben Fry in 2001.
Rudolf Frieling
Rudolf Frieling received an M.A. from the Free University of Berlin and a Ph.D. from the University of Hildesheim, Germany and was appointed Curator of Media Arts at the San Francisco Museum of Modern Art in 2006. His curatorial projects include, among others, the online archive Media Art Net and major survey shows such as In Collaboration: Early Works from the Media Arts Collection (2008), The Art of Participation: 1950 to Now (2008) on the history of contemporary participatory practice and Stage Presence: Theatricality in Art and Media(2012) on the crossover between visual and performing arts. Frieling is also an Adjunct Professor at the California College of Arts and the San Francisco Art Institute. Prior to his tenure at SFMOMA, Frieling worked at ZKM Center for Art and Media in Karlsruhe, Germany, as a curator and researcher. He lives and works in San Francisco.
Ken Goldberg
Ken Goldberg is an artist, roboticist and UC Berkeley Professor with appointments in Industrial Engineering and Operations Research (IEOR), Electrical Engineering/Computer Science (EECS), Art Practice, the School of Information, and in the Department of Radiation Oncology at the UCSF Medical School. With his students and colleagues, Ken has published over 200 peer-reviewed technical papers on algorithms for robotics, automation, and social information filtering. Ken is Founding Director of UC Berkeley's Art, Technology, and Culture Lecture Series and Faculty Director of the CITRIS Data and Democracy Initiative. Goldberg's art   installations are related to his research and have been exhibited at venues such as the Whitney Biennial, Berkeley Art Museum, SF Contemporary Jewish Museum, Pompidou Center, Buenos Aires Biennial, and the ICC in Tokyo. Goldberg co-wrote three award-winning Sundance documentary films, "The Tribe", "Yelp", and "Connected: An Autoblogography of Love, Death, and Technology" and co-directed the Emmy-Nominated Short Doc "Why We Love Robots." Goldberg is represented by the Catharine Clark Gallery in San Francisco. His Erdos-Bacon number is 6.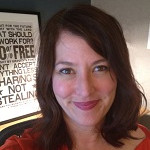 Amy Heibel
Amy Heibel is vice president at the Los Angeles County Museum of Art (LACMA) where she oversees technology infrastructure, software development, and web and digital media strategy. She also founded and directs the Art + Technology Lab, a multidisciplinary program to support experimental projects by artists who are working with emerging technology and exploring the intersection of technology and culture. Prior to coming to LACMA, Amy worked for experimental theater and nonprofit arts organizations, and created media experiences for museums across North America and Europe. Her work has won top awards from the National Association for Interpretation and the American Association of Museums. Amy holds an undergraduate degree in multidisciplinary studies from Scripps College, and a graduate degree in philosophy from UC Berkeley. In her spare time, she plays a lot of basketball.
Horst Hortner
Horst Hortner is a media artist and researcher. He is an expert in the design of human-computer interaction and holds several patents in this field. H?rtner was a founding member of the Ars Electronica Futurelab in 1996 and since then he has been the director of this atelier/laboratory. He started work in the field of media art in the 1980s and co-founded the 'media-art group x-space' in Graz, Austria, in 1990. Horst Hortner works at the nexus of art and science and gives lectures and talks at numerous international conferences and universities.
Sabine Himmelsbach
Since March 2012, Sabine Himmelsbach is the new director of HeK (House of Electronic Arts Basel). After studying art history in Munich she worked for galleries in Munich and Vienna from 1993–1996 and later became project manager for exhibitions and conferences for the Steirischer Herbst Festival in Graz, Austria. In 1999 she became exhibition director at the ZKM | Center for Art and Media in Karlsruhe. From 2005–2011 she was the artistic director of the Edith-Russ-House for Media Art in Oldenburg, Germany. Her exhibition projects include 'Fast Forward' (2003); 'Coolhunters' (2004); 'Playback_Simulated Realities' (2006); 'Ecomedia: Ecological Strategies in Today's Art' (2007); 'Landscape 2.0' (2009); 'MyWar. Participation in an Age of Conflict' (2010) and 'Culture(s) of Copy' (2011). 2011 she curated 'gateways. Art and Networked Culture' for the Kumu Art Museum in Tallinn as part of the European Capital of Culture Tallinn 2011 program. Her exhibitions at HeK in Basel include 'Sensing Place. Mediatising the Urban Landscape' (2012), 'Semiconductor: Let There be Light' (2013),'Perspectives on Imaginary Futures' and ?Ryoji Ikeda" (2014). As a writer and lecturer she is dedicated to topics related to media art and digital culture.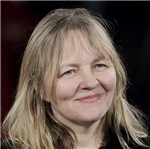 Chrissie IIes
Chrissie Iles is the Anne and Joel Ehrenkranz curator at the Whitney Museum of American Art, New York. Her exhibitions include co-curating the 2004 and 2006 Whitney Biennials, and curating major survey exhibitions of Dan Graham, Louise Bourgeois, Sol LeWitt, Donald Judd, and Yoko Ono, as well as exhibitions of Paul McCarthy, James Lee Byars, Jack Goldstein, and several group exhibitions including 'Signs of the Times: Film, Video and Slide Installation and Britain in the 1980s', 'Scream and Scream Again: Film in Art', and 'Into the Light: The Projected Image in American Art 1964-1977',voted best group show in New York in 2001 by the International Association of Art Critics. She is preparing a major survey exhibition on the topic of the cinematic. She is Adjunct Professor in the Fine Art Department at Columbia University, and a faculty member of the Center for Curatorial Studies at Bard College. She was recently awarded an honorary degree by Bristol University, England.
David Joselit
David Joselit is a Distinguished Professor in the Art History PhD Program at the CUNY Graduate Center. He has taught at the University of California, Irvine, and Yale University where he was Department Chair from 2006-09.  Joselit is author of Infinite Regress: Marcel Duchamp 1910-1941 (MIT, 1998), American Art Since 1945 (Thames and Hudson, 2003), Feedback: Television Against Democracy (MIT, 2007), and After Art (Princeton University Press, 2012). He is an editor of the journalOCTOBER and writes regularly on contemporary art and culture.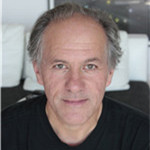 George Legrady
George Legrady is Chair of the arts-engineering Media Arts & Technology PhD program at the University of California, Santa Barbara, director of the Experimental Visualization Lab, and professor of digital media in the College of Engineering and the College of Humanities and Fine Arts. He is an internationally published scholar and exhibiting media artist, a pioneer in the field of interactive digital media arts. His contribution to the field since the early 1990's has been in creating digital media interactive installations based on a set of conceptual positions for intersecting cultural content with data processing. His current research engages with data visualization, robotic computational integrated photography, and digital visual ethnography. His computational based installations have been exhibited internationally in multiple venues from fine arts museums and galleries, alternative spaces, academic conferences, and public commissions. He has received awards from Creative Capital Foundation; the Daniel Langlois Foundation for the Arts, Science and Technology; the Canada Council; the National Endowment for the Arts, and the National Science Foundation.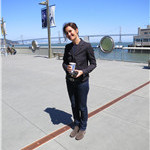 Marina McDougall
Marina McDougall is a curator based in San Francisco who works at the juncture of art, science, nature, culture and specializes in interdisciplinarity and hybrid artistic practices.
McDougall is Director of the Exploratorium's Center for Art & Inquiry, where she develops the strategy for the museum's cross-program work in the arts and oversees the Artist-in-Residence and Over the Water programs. She has recently developed projects and programs with artists including Fujiko Nakaya, Paul Ramirez Jonas, Rafael Lozano Hemmer, Harrell Fletcher and many others.
McDougall has 20 years' experience organizing exhibitions and public programs. She was the first curator of art and design at the CCA Wattis Institute for Contemporary Art and is a co-founder of the Studio for Urban Projects. She has been a visiting curator at the MIT Media Lab, the Museum of Jurassic Technology, the California Academy of Sciences, and the Oakland Museum of California. McDougall's long-term project The Garden of Forking Paths involves drawing upon the history of gardens to shape new forms of garden experience.
In 2011 McDougall organized the Exploratorium conference "Art as a Way of Knowing". She is the co-editor of the Marvelous Museum: Treasures, Curiosities and Orphans of the Oakland Museum of California: A Project of Mark Dion (Chronicle Books, 2010) and Science Is Fiction: The Films of Jean Painleve (MIT Press/Brico Press, 2000).
She is Adjunct Professor, in the California College of the Arts Curatorial Practice Program and serves on the board of the Seed Fund.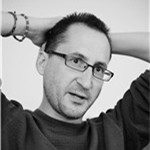 Christopher Salter
Chris Salter is an artist, University Research Chair in New Media, Technology and the Senses at Concordia University and Co-Director of the Hexagram network for Research-Creation in Media Arts, Design, Technology and Digital Culture, in Montreal. He studied philosophy and economics at Emory University and completed a PhD in directing and dramatic criticism at Stanford University where he also researched and studied at CCMRA. He collaborated with Peter Sellars and William Forsythe and the Frankfurt Ballet. His artistic work has been seen all over the world at such venues as the Venice Architecture Biennale, Vitra Design Museum, HAU-Berlin, BIAN 2014 (Montreal), LABoral, Lille 3000, CTM Berlin, National Art Museum of China, Ars Electronica, Villette Numerique, Todays Art, Mois Multi, Transmediale, EXIT Festival (Maison des Arts, Creteil-Paris) among many others. He is the author of Entangled: Technology and the Transformation of Performance (MIT Press, 2010) and Alien Agency: Experimental Encounters with Art in the Making (MIT Press, 2015).