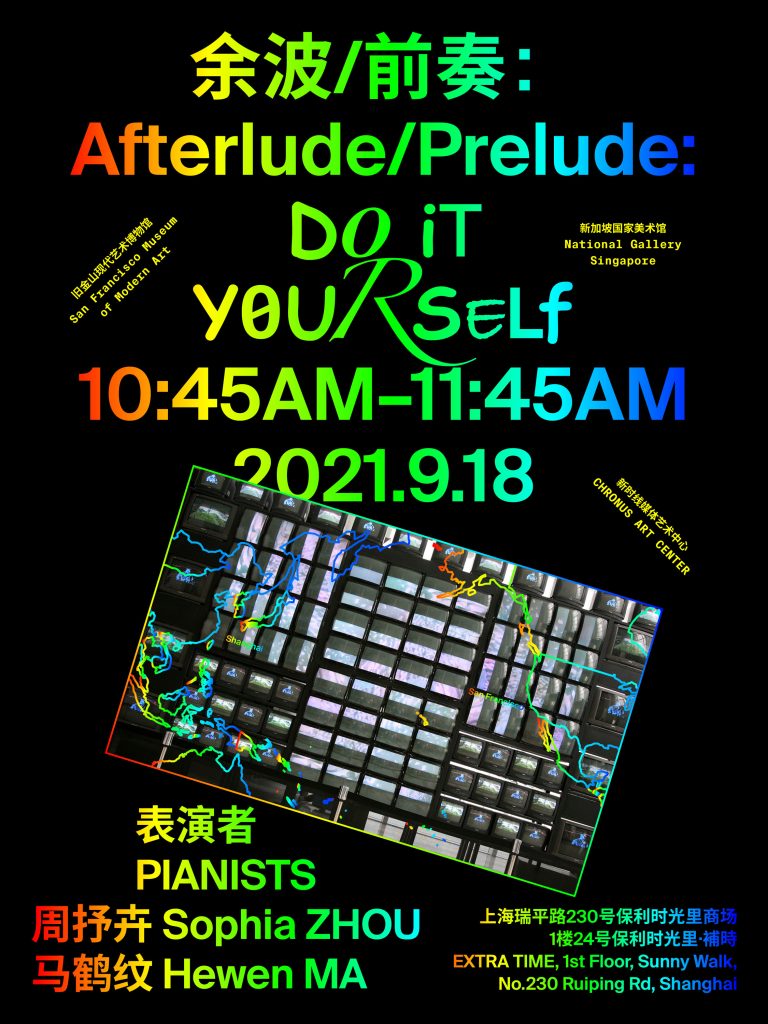 Afterlude/Prelude: DO IT YOURSELF
Part of Afterlude/Prelude: Artists Respond to Nam June Paik
*The performance will start at 11am, last until 11.30. Please arrive 30 minutes before the performance starts.

Hewen MA, Sophia (Shuhui) ZHOU

EXTRA TIME, 1st Floor, Sunny Walk, No. 230 Ruiping Rd, Xuhui, Shanghai

Chronus Art Center, San Francisco Museum of Modern Art, National Gallery Singapore

*Sign up now to get a ¥20 coupon to use at EXTRA TIME during the event!
"[Satellite art] must consider how to achieve a two-way connection between opposites of the earth; how to give a conversational structure to the art; how to master differences in time; how to play with improvisation, in-determinism, echos [sic], feedbacks, and empty spaces…"

— Nam June Paik, 1984Hewen Ma
Chronus Art Center is pleased to announce a virtual piano performance, Afterlude/Prelude: Artists Respond to Nam June Paik, jointly organized by CAC, the SFMOMA, and the National Gallery Singapore.
Inspired by Nam June Paik's transnational art practice and experimentations in global satellite broadcast — as well as the present impact of the pandemic on remote communication — Afterlude/Prelude: Artists Respond to Nam June Paik brings together contemporary artists from around the world via webcast. The multiple-hour presentation features over twenty artists responding to Paik's thinking and writing through readings, performances, music, video, and more.
As the connection node of the virtual stream and transmission from San Francisco to Singapore, Shanghai will premiere Paik's Fluxus score DO IT YOURSELF (1961/62), live onsite at EXTRA TIME, in collaboration with SFMOMA. In the Fluxus tradition of event scores, DO IT YOURSELF provides a simple set of directions, as written by Paik in the excerpt below:
 the left-hand part of the Fugue No .1(C.Major)
 of the "Wohltemperiertes 1" (J.S.Bach)
the right hand-part of the Fugue No.1(C.Major)
 of the "Wohltemperiertes 1" J.S.Bach)
Shanghai audiences are invited to witness the special segment. Please join us at EXTRA TIME to hear the pianist Hewen MA plays the right-hand part of the composition, while the pianist Sophia (Shuhui) Zhou synchronously plays the left-hand part in San Francisco, creating the complete piece together live. A video feed of both performances will be streamed simultaneously to the online audience as part of the Afterlude/Prelude webcast.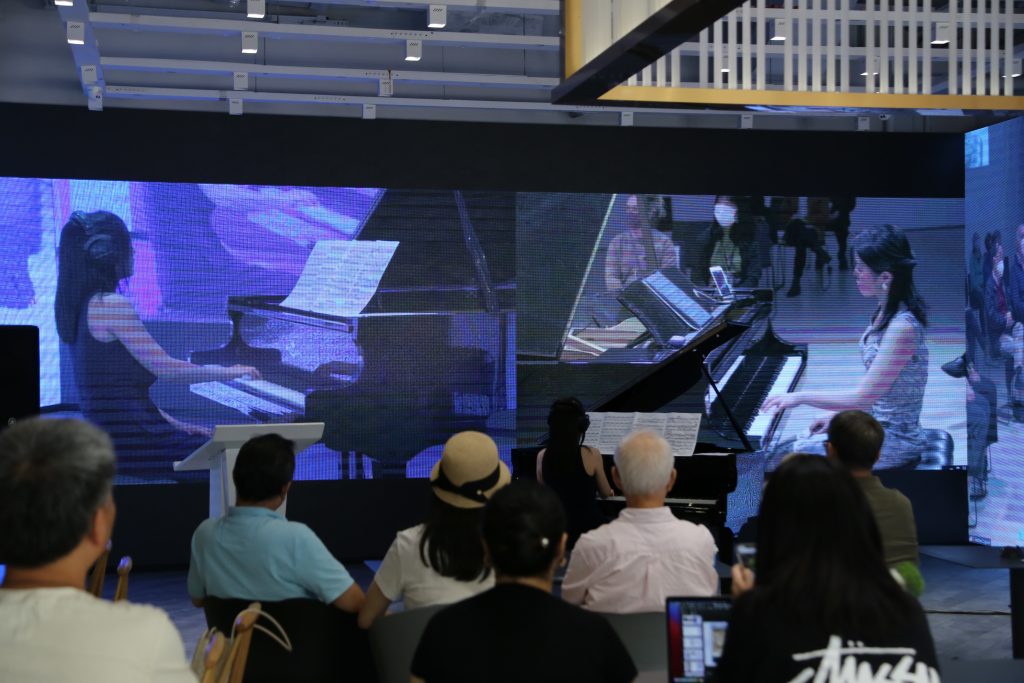 About the Pianists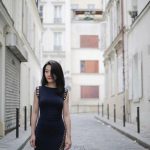 Hewen Ma, born in Dalian, China. She is a pianist entertaining and connecting with audiences through the exhilarating intensity of her virtuosic technique. As an international soloist, renowned for passionate performances, her appearances include major music festivals in China, Canada, and North American. Her touching, fervent performances have graced the stages of Harris Hall (Aspen) Jordan Hall (Boston), Stude Concert Hall (Houston), Shanghai Grand Theater, Shanghai Symphony Orchestra theatre, and the Shanghai Heluting Music Theater.
Shuhui (Sophia) Zhou was born and raised in Shanghai. She was offered a full scholarship by Oberlin College, majoring in piano performance and German literature. She continued her piano studies with Jan Jiracek von Arnim in the University of Music and Performing Arts in Vienna. After obtaining a Master of Music degree from Mannes College of Music in New York City, ZHOU is invited to work as a piano instructor at Bard Conservatory College of Music. She has been performing in Carnegie Hall (New York), Kennedy Centre (Washington D.C.), Shanghai Concert Hall, etc. As the winner of the BPA International Piano Award of Barcelona, ZHOU was engaged for solo recitals tours across Spain. Her recital partners include members of New York Philharmonic, Berlin Philharmonic Orchestra, the Metropolitan Opera House, Paris Symphony Orchestra and Shanghai Symphony Orchestra. In 2019, she performed the American premier of the song cycle "Dark Days" by German Composer Alexander Goehr in the National Sawdust Hall, the esteemed performing venue for new music in New York City. Based in New York, ZHOU is currently the Director of Chamber Music in the Stissing Arts Center, Pine Plains, NY.
About Nam June Paik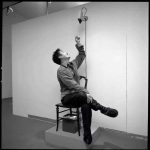 Nam June Paik (1932 - 2006) was a Korean American artist, internationally recognized as the "Father of Video Art" and one of the leading members of Fluxus movement. Paik is a versatile artist working with various mass media. Among a wide collection of his conceptual video installations, those multi-channel and closed-circuit installations are possibly the most famous ones, such as TV Buddha, TV Garden, among others. Credited with the pioneering use of television in his art, Paik integrated art, media, technology, pop culture and avant-garde to shape the trajectory of contemporary art and also pin down the precious value of his works in the history of contemporary art. Influenced by his studies in musicology and multicultural background, Paik generated his own creative approach through interdisciplinary practices that transcended national borders. The most significant feature of his works is the unity of technology and art that breaks the conventional definition of music, transforming auditory sense to the visual sense, single medium to multi-media.
*Image: Friedrich Rosenstiel, Nam June Paik sitting in TV chair, 1976; © Friedrich Rosenstiel, Köln/Cologne, Zentralarchiv für deutsche internationale Kunstmarktforschung ZADIK, Universität zu Köln
The San Francisco Museum of Modern Art is one of the largest museums of modern and contemporary art in the United States and a thriving cultural center for the Bay Area. The museum has a remarkable collection of painting, sculpture, photography, architecture, design, and media arts, housed in an LEED Gold-certified building designed by the global architects Snøhetta and Mario Botta. In addition to the seven gallery floors, SFMOMA offers 45,000 square feet of free, art-filled public space open to all. SFMOMA believes the art of our time is vital and shares it with passion and purpose, and that art and the creative process can open minds and help build a better world. 
About National Gallery Singapore
National Gallery Singapore is a leading visual arts institution which oversees the world's largest public collection of Singapore and Southeast Asian modern art. Reflecting Singapore's unique heritage and geographical location, the Gallery aims to be a progressive museum that creates dialogues between the art of Singapore, Southeast Asia and the world to foster and inspire a creative and inclusive society. This is reflected in our collaborative research, education, long-term and special exhibitions, and innovative programming. The Gallery also works with international museums such as Centre Pompidou, Tate Britain, to jointly present Southeast Asian art in the global context, positioning Singapore as a key node in the global visual arts scene.

Special Thanks

EXTRA TIME dedicates to create a social space for catering, coffee, creativity, art, exhibitions and workshops to celebrate lifestyle aesthetics.
Project Credits
Project Conceptualization: Rudolf Frieling (SFMOMA), ZHANG Ga (CAC)
Chief Coordinator: Bi Xin (CAC), Stella Lochman (SFMOMA)
Tech Support: Tech Sound, Vytas Jankauskas
Research & Editorial: CAO Jiamin, XU Yuting
Production Manager: CAO Daxu
Media Partner: The Art Newspaper
Graphic Design: Atmosphere Office
Piano sponsored by Villsend
Media Partner
Tech Support
CAC reserves the right of final interpretation for the content hereinabove.